E-commerce platform Alesha Mart gives discounts on products from the company's own fund as part of business strategy, said Chairman and Managing Director of Alesha Holding Md Monzur Alam Sikder.
"Some of the e-commerce platforms offer discounts using the advance payment collected from the customers, but Alesha Mart subsidises the prices of discounted products from the company's own fund," he said.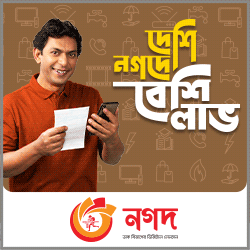 He also claimed that the online merchant had so far given discounts worth around Tk 3.5 billion from own fund - of which, Tk 1.42 billion were recovered through selling other products.
Mr Sikder disclosed the information at a 'Meet the Press' event organised by Alesha Holdings Ltd, the mother company of Alesha Mart, at a hotel in the city's Gulshan-2 on Sunday where other high officials of the company were present.
Speaking on the occasion, Mr Sikder said there had been many rumours and discussions about selling products at discounted rates by some of the e-commerce platforms, creating a barrier to the business.
"In the first one month, my company barely sold products worth Tk 0.1 million," he said, adding: "Observing market strategy of other competing companies, we also started selling products on discounts."
Out of a total of 3,200 products, Alesha Mart offered a big discount on only one product - motorbike, he said.
"We had to give a subsidy of Tk 2.10 billion from the company's fund to make the campaign successful, and now at least 60 per cent of the country's population know about Alesha Mart," he said.
"It was a big branding step for us, and we also have an exit plan to recover the money spent on discounts, unlike some other controversial companies," he added.
Alesha Mart has successfully served 350,000 orders since its inception on January 21, 2021, said the company's chairman.
As of July, only 10 complaints regarding the product delivery were lodged with the Directorate of National Consumer Rights Protection, he mentioned.
However, when asked about the company's source of funding, Mr Sikder said, "The company runs on its own finance, and to make it possible, I had to mortgage or sell some of my property."
Responding to another query about suspension of payment to Alesha Mart by several banks and an MFS provider, he said, "We don't know why they do that despite smooth delivery of products, but I can say that it happened because of a negative campaign against the e-commerce industry."
Giving discounts is a strategy of e-commerce platforms to grab market share, he said, adding that global platforms like Amazon and Alibaba also gave subsidies for a long time.
"We don't take advance payment from customers in complaint to regulation and no vendors also claim that we owe them money," he added.
According to a circular by Bangladesh Bank on June 30, payment gateways - banks, mobile financial services (MFSs), payment service providers and payment system operators - will release customer money to merchants after confirmation of the delivery.