Bkash, a leading mobile financial service provider, has added a 'Donation' button to the main menu of its mobile app in a bid to make the donation process easier amidst the coronavirus fallout.
A press release said the button has been added to enable the customers donate more easily to the welfare organisations which are working for the distressed people during this crisis.
As a result, customers can now easily join the humanitarian work of 11 organisations and donate any amount of money in just a few clicks, it added.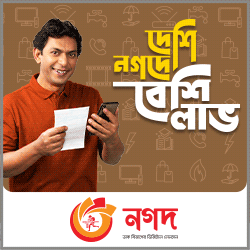 To donate, customers need to select 'Donation' from 'More' icon in the bKash app. Then the preferred organisation is to be selected. The amount of donation has to be entered in the next step with donor's name and email id.
If the customers want, they can also keep their identity hidden by selecting 'unwilling to reveal identity' option. After pressing 'submit' and entering PIN number, the donation process will be completed. In the last screen, customers can see the acknowledgement.
Customers will get the opportunity to know detailed information about the organisation in the next screen after selecting it. Donors can also contact the email shown in that screen if they are interested to know more about the expenditure of the donation.
BKash users now can donate to 11 organisations which are: Alter Youth, Anjuman Mofidul Islam, Bangladesh Thalassemia Foundation, BRAC, Center for Zakat Management, Dhaka Ahsania Mission, Ek Takay Ahar, Liberation War Museum, National Liver Foundation of Bangladesh, Obhizatrik Foundation and Sajida Foundation, reports UNB