BENAPOLE: Imports of goods by trains through Benapole port have seen a significant increase during the prevailing coronavirus pandemic, necessitating the railway authorities to start infrastructure development work quickly.
Accordingly, the authorities have kicked off the work on a double railway line from Benapole railway station to the Indian port of Petrapole.
Despite the growing demand for rail imports, the import trade between the two countries was severely hampered by the dilapidated British-period railways.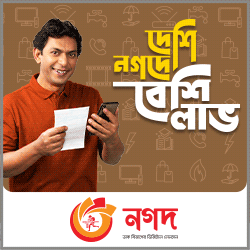 Traders say the development of railway infrastructure, as well as the installation of container terminals, will increase import trade with India. In the current situation, the risk of coronavirus infection is also expected to decrease.
According to the port sources, import and export trades with the neighbouring country India go on by rail and land through 12 ports.
However, due to the eased communication system, 80 per cent of goods are imported by land and rail through Benapole port.
Although some infrastructures have been developed for import and export trades by road, there has not been much development for railways.
After the country's independence, railway activities were stopped. Later in 2000, the railway authorities started carrying import goods by using the old infrastructures.
At present, various goods including motor vehicles, machinery, wheat, maize, rice and onion are being imported by trains. If a cargo train enters the port, another cargo train cannot come to Benapole port due to lack of space.
The businessmen lobbied with the government on the issue and started the work of developing and renovating the railway infrastructure at a cost of around Tk 40 million (4 crore). Railway officials said construction work would be completed in the next three months.
Benapole C&F Agents Association President Mofizur Rahman Sajan said Benapole land port is the biggest port after Chittagong port. A few days later the Padma bridge is going to be opened. Import and export trade with India will double if a container terminal is opened for rail at Benapole port.
As there is an opportunity to import all kinds of goods by trains, traders have been urged to import more and more goods by rail.
Benapole Port Deputy Director (Traffic) Abdul Jalil said in the current coronavirus situation, importing goods by rail is much safer and cheaper.
The government has a plan to start transporting export items by rail once the development work is completed.
Jashore Railway Department Assistant Engineer Waliul Haque said renovation of two kilometre old broad gauge railway line from Benapole railway station to Petrapole port at a cost of Tk 40 million (4 crore) has started.
Work is underway to set up two additional rail lines on both sides of the Benapole port. These development works will be completed within the next three months.
Benapole Railway Station Master Saidur Rahman said the government has taken steps to reconstruct the dilapidated railway lines. As there are not enough yards, if a cargo train enters the port, another one cannot enter from India. This could hamper the transportation of goods in time. When the development work is completed, the trade will increase and revenue will also rise with this.
In May of the current financial year, 43,006 tonnes of various goods were imported from India by trains through Benapole port.