Outward electronic fund transfer or EFTN stood at Tk 1063.92 billion during the past fiscal year (FY17), according to the latest statistics of the central bank.
The amount was Tk 909.53 billion in the previous fiscal year (FY16).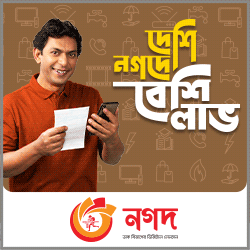 Thus, outward EFTN posted around 17 per cent growth in the past fiscal year.
The number of outward EFTN transactions stood at 4.08 million in the past fiscal year.
The central bank statistics also showed that in May of this year, the value of EFTN was recorded at Tk 110.80 billion which is the highest in a single month so far.