OPINION
E-waste management in Bangladesh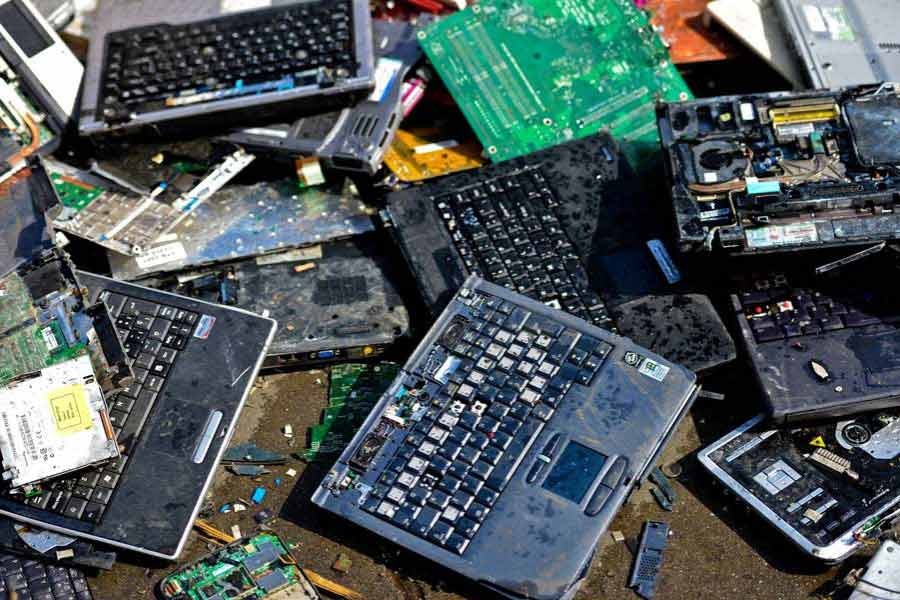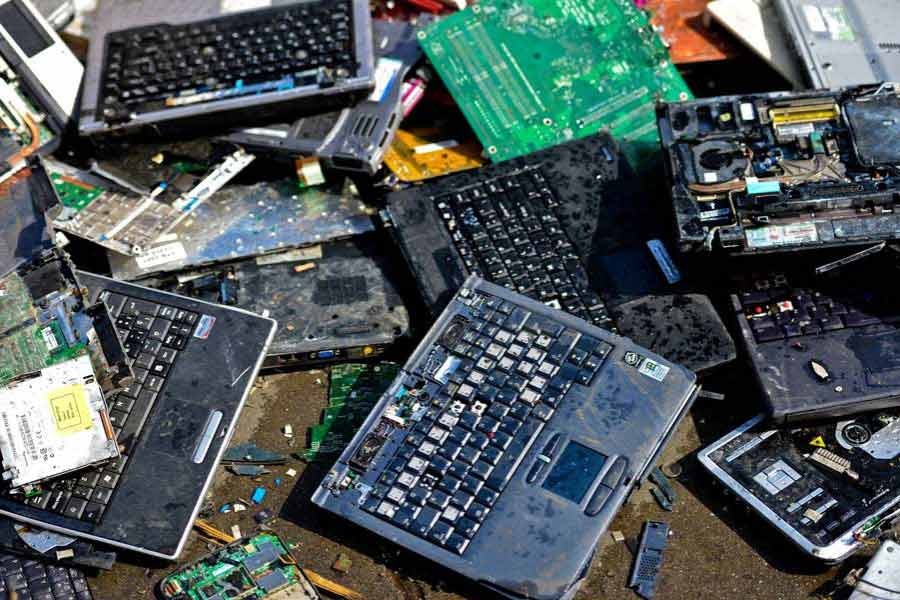 Over the last decade, Bangladesh has made remarkable progress in digitalising the public and private sectors. This resulted in having various electronic amenities in industrial use (automated machinery) and those at the household level, such as television, freezer, and small home appliances. In particular, mobile phone users in Bangladesh number about 60 million, ranking Bangladesh among the top 10 countries globally. This is certainly an outstanding achievement for Bangladesh to make its way to developed countries. However, this poses a new challenge ahead of dealing with electronic waste (e-waste).
Electronic wastes are one of the fastest-growing waste streams globally. It is e-scraps or wastes from electric and electronic equipment (WEEE); complex chemical, hazardous, and mostly disposed in the general wastes, especially in the developing countries. E-wastes are classified into six categories: Cooling and freezing equipment like refrigerators and freezers, and other equipment such as televisions, monitors, laptops, notebooks, and tablets. Additionally, e-waste stream contains diverse materials including hazardous substances such as lead, polychlorinated biphenyls (PCBs), mercury, polybrominated biphenyl ethers (PBDEs), brominated flame retardants (BFRs), as well as valuable substances such as iron, steel, copper, aluminum and plastics.
The unprecedented growth of e-waste has not only been contributed by the developed countries but also by the developing countries such as Bangladesh. If not recycled scientifically, it contributes to diminish natural resources in addition to causing irreparable damage to the environment leading to the health hazard for the people working in this industry.
On June 10, 2021, Bangladesh's Department of Environment (DoE) of the Government of the Peoples Republic of Bangladesh published its 'Hazardous Waste (e-waste) Management Rules 2021' under the Bangladesh Environmental Protection Act, 1995. It stipulates that the registered manufacturers and recyclers of electronic waste operating in the country submit their WEEE management plan. On January 9, 2022, the DoE organised a consultative workshop on e-waste management in Bangladesh.
In Bangladesh, a wide range of factors, including rapid globalisation, urbanisation, increased access to modern technology and marketing of new electronic product, purchasing power of people, substantial reduction in new product development cycle, increasing obsolescence strategy by the electronic products manufacturers contribute to generation of an increasing amounts of electronic wastes. According to a survey, 78 per cent of respondents agreed with the statement: "COVID-19 caused unnecessary short-term investment in technology, which leaves us at risk of data being stored on a wide range of devices." As many as 92 per cent of enterprises agreed with the statement: "We must take a serious view on ensuring that all devices used to equip the workforce throughout the COVID-19 pandemic are appropriately stored and disposed of."
Thousands of tons of e-waste are produced in Dhaka and other major cities of Bangladesh. Moreover, the Covid pandemic led to increasing information technologies use (e.g., online meetings, school, shopping etc.). As of now, up to 97 per cent of the wastes are recycled in the informal sector that employs low-paid workers. And the processing steps include cleaning, melting and incineration. These workers are unaware of any safety measures. Through these activities acids are used to extract precious metals that also release toxic metals such as lead, cadmium, mercury, chromium, and other toxins into the air, causing environmental pollution.
Generally, e-wastes are traded between the high-income (HIC) and low-income countries (LIC) and within the LIC. The regulation allows for exporting of e-wastes from Bangladesh. Following appropriate treatment or recycling of the imported e-wastes, China uses them in manufacturing various types of electronic and electrical equipment, which are then exported to other countries. After ten years' homework, the Bangladesh government has enacted its hazardous waste laws and has built waste disposal facilities. Since the informal sector manages 97 per cent of the e-waste in Bangladesh, it is crucial to monitor their work.
Dr Rehnuma Haque is Assistant Scientist, icddrb and Dr Mahfuzar Rahman is the Country Director of Pure Earth. He can be reached at