Since the inception of the era of information and communication technology (ICT), talks on how Bangladesh could make the most of this emerging field to develop its economy as well as create jobs has been going the rounds among the relevant quarters. There were prospects of software programming, data entry and so on. But no notable progress could be made over the years in the sector. The roadblocks include lack of necessary infrastructure, poor internet connectivity and absence of appropriate policy support. But neighbouring India did not miss the bus. No wonder that Bangalore in the state of Karnataka became the Silicon Valley of the region. Bangladesh lagged behind. More than two decades have gone by since the worldwide web created the information superhighway. The internet has already reached the remotest corner of the globe. Meanwhile, mobile telephone with internet connectivity has caught the imagination of the youths everywhere. Bangladesh is no exception and mobile phone has entered about every home in the country. Social media platforms like the facebook is now all the craze. All this is indicative of the fact that the digital era is now far advanced. Where is Bangladesh in this ever expanding, rather exploding, bubble of the digital landscape? It is worthwhile to note at this point that, in this digital era, technological revolutions do not take centuries to happen. In fact, now a decade is a rather long time. For what is new technology at the moment may become quite obsolete a decade hence. The speed at which technology is progressing is in a word breathtaking. Soon, many new technological revolutions are going to take place within the span of a single decade. So, in this super fast era of technology, laggards have no place. Bangladesh cannot simply afford to sit on the fence and watch the changes passing by.
However, the good news is, the desperate, enterprising youths of Bangladesh are not the ones to sit out all these ongoing developments. Despite all the limitations, they have been trying to grab the opportunities that the new technologies have on offer. A recent study by the local development think tank, the Centre for Policy Dialogue (CPD), has revealed that Bangladesh is now the second largest supplier of online labour with 16 per cent share of the global work force. Young entrepreneurs have been operating 2,000 website-based startups and 50,000 facebook-centric e-business. It is said that the curse of Covid-19 pandemic has proved to be a blessing in disguise. Since people's movement is restricted due to the pandemic, many, who otherwise were rather apathetic towards online-based supply of goods, services and monetary transactions, are gradually getting used to them. As a result, online business has got a big boost globally. That the picture is not different for Bangladesh has been amply demonstrated by the CPD study.
Of particular significance, the study noted, is the increase in the volume of digital transactions within a span of three years between 2016 and 2019. Especially, the online payments have increased nearly twelve fold-actually 11.77 times-from Tk1.68 billion in 2016 to Tk19.78 billion in 2019. The study made further projection that the raging pandemic situation may cause the volume of electronic transactions rise to as high as Tk40 billion. It is hoped that with the expansion of the online business at such a rate, about half a million new jobs would be created within a year.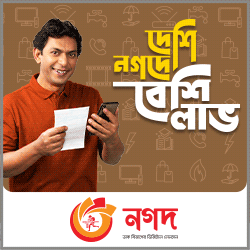 These are undoubtedly very reassuring pieces of news. In fact, from the migrant workers' desperation to reach any corner of the globe braving the elements in search of a job to the farming community's hard work and silent innovations to bring about revolutions in farm production to the jobless educated youths' amazing successes in creating self-employment through developing e-commerce start-ups, providing service to people in novel ways such as through launching ride-hailing service using appropriate apps and so on only points to our dauntless youths' unbounded energy, courage and talents. In most cases they have succeeded in all these unaided. One can easily imagine, what our youths could achieve if they were able to operate in a more supportive environment. Now since they have found their own ways to survive and even help the rest of society through their hard work and innovations, what one would expect from those in authority is that at least obstructions are not created in their way so they can go ahead unhindered to come up with even newer surprises. However, it is indeed heartening to know that the government has started to recognise the contribution these youths have been making to society with their never-say-die spirit. The government is learnt to have come forward with a regulatory framework, the Digital Commerce Operations Guide with a standard operating system (SOP), for these online startups under which they can operate in a more productive and disciplined manner. Hopefully, this would benefit both the e-commerce ventures and their clients. It is believed that as this digital economy platform is quite a brand new field of activity, one cannot expect it to be perfect overnight.
As such, there will be complaints from both the fledgling e-commerce ventures and their users. Things are actually evolving in this new arena of business. It is urgent that the government treat this emerging field of digital platform economy with due priority. For it must be understood that these digital ventures are going to usher in the next big thing, the Fourth Industrial Revolution (4IR). Bangladesh cannot afford to miss it.