The Bangladesh economy is yet to make a full recovery from the Covid-19 effects but inflation and supply chain constraints have already arisen as new challenges, business leaders and analysts told a webinar on Saturday.
They added that lack of export diversification and policy support, skill shortages, and poor logistic infrastructure are among the issues that impede a much-needed economic rebound.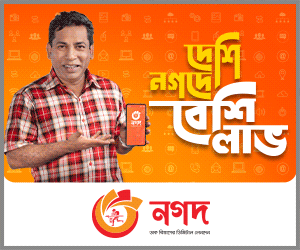 "The country still could not come out of the shackle of Covid-19. Already, inflation rate rose to 6.05 per cent in December, given the rise in fuel price in the international market," President of Dhaka Chamber of Commerce and Industry (DCCI) Rizwan Rahman said at the webinar titled "Bi-annual Economic State and Future Outlook of Bangladesh Economy-Private Sector Perspective (July-December, FY 2021-22)".
He recommended providing loan facilities to importers of daily essentials and cutting duty on commodities import to tackle inflation.
The business leader also suggested compensating agro-businesses with lower transportation and fuel cost to help improve the situation.
For overall development of agriculture and agro-processing, he floated the idea of central bonded warehouse facility and a separate food industrial zone.
Bangladesh Bank Governor Fazle Kabir, addressing as chief guest, said the economy fell into a challenging situation due to due the pandemic but with the help of a resilient private sector, the Bangladesh economy is performing relatively well.
"The government has announced stimulus package at the right time' and there is no liquidity shortage in banks at the moment," he mentioned.
He assured the stakeholders that the central bank is closely monitoring the inflationary pressure on the economy.
Dwelling on export diversification, he pointed out that light engineering, jute, leather, ICT and pharmaceutical sectors are doing well apart from the apparel sector.
The DCCI president called for increasing local and foreign investment by lowering the cost of doing business, removing discriminatory policies, framing a national roadmap for FDI, rationalising corporate tax structure, equipping economic zones, and diversifying FDI sectors.
Referring to a BIDS survey that 66 per cent of the graduates of National University and 47 per cent of the educated people are unemployed, he insisted on skills development and industry-academia collaboration.
Mr Rezwan Rahman underlined the importance of CMSME sector and recommended establishment of a dedicated SME bank.
"We need to nurture these sectors (CMSMEs) for better diversification," said the governor and also hoped that as some of the mega projects would be commissioned soon, the FDI inflow into the country would be expendited.
President of Federation of Bangladesh Chambers of Commerce and Industry (FBCCI) Md. Jashim Uddin observed that the economy is yet to recover from Covid-19 fallout.
He pointed out that due to disruption in global supply chains, commodity market has become 'a little bit volatile'. He recommended redesigning duty structure for the time being in order to control inflation.
Dr. Zaidi Sattar, Chairman at Policy Research Institute of Bangladesh, President of Foreign Investors' Chamber of Commerce and Industry Naser Ezaz Bijoy and President of Metropolitan Chamber of Commerce and Industry Md. Saiful Islam also addressed the meeting.