The implementation of the proposed budget for fiscal year 2020-21 is a major challenge, said a senior minister of the incumbent government on Sunday.
"I must say that the budget is very challenging," said agriculture minister Dr Abdur Razzaque while speaking as the chief guest during a post-budget webinar.
The Centre for Governance Studies organised the online seminar on 'Life, Livelihood and National Budget'.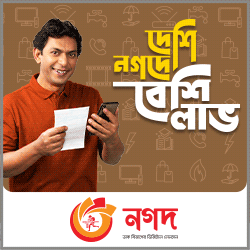 Mr Razzaque said the budget was formulated and proposed on the assumption that the impact of Covid-19 pandemic will soon go away.
"We proposed this budget thinking that Covid-19 will go away gradually and we will have to go forward to the path of development."
"I think we've already passed three risky months of Covid-19 and it may continue three more months," the minister mentioned.
He further said Covid-19 will not impact this budget much as it becomes effective in the country from the September-October period.
"If the pandemic prolongs, we'll fall into a very uncertain situation," he said. In that case, they have to review estimations and projections, including the growth rate of 8.2 per cent, Mr Razzaque stated.
He said there will be no problem in bank borrowing. "It is not right that banks will not able to provide money."
"I myself asked the Bangladesh Bank governor that from where Tk 840 billion will come for private-sector investment."
"He (the governor) replied that there is no liquidity crisis in the banking sector at this moment," Mr Razzaque said.
However, the minister again said that the situation in the banking sector is not good. "People take loans but they don't return."
"Bad loan in the banking sector is a matter of extreme sorrow for us," he said. The minister said the revenue target would be achieved this year through extending tax net and increasing revenue from value-added tax.
But it is a matter of sorrow that GDP revenue ratio in the country is low, he cited.
Former commerce minister and Bangladesh Nationalist Party (BNP) leader Amir Khasru Mahmud Chowdhury questioned the priorities of the proposed budget.
"Why the government has to allocate Tk 180 billion for Rooppur Nuclear Power Plant when people are dying in streets without treatment?"
Mr Chowdhury said there should be a public debate on mega projects as to whether people get returns on investment.
He said the first and foremost priority should be the health sector and there should be a roadmap for it.
Mr Chowdhury said this government does not have the accountability to people as it was not voted to power.
He said the government is providing loan packages instead of cash assistance to people.
The BNP leader said nobody is questioning whether banks are capable of providing loans under stimulus packages.
He said loans on bank-client relationship are mainly a political credit and people who are in real need will not be benefited under stimulus packages.
UNDP's Human Development Report Office director and economist Selim Jahan said the budget should focus on people's welfare and the immediate needs of the corona-hit people, not on growth.
He urged the government to take the chance of Covid-19 and bring reforms in health sector and social safety.
"Covid-19 has showed us how much fragile our health system is and we should think about it afresh."
Mr Jahan said Bangladesh should formulate a three-year intermediary plan instead of following a five-year plan to overcome the impact of Covid-19.
Prof Dr Rashed Al Mahmud Titumir of Development Studies Department at Dhaka University spoke on the key topic.
He said the 8.2-per cent expected growth rate may be unrealistic, adding that the GDP growth will plummet because of poor investment, consumption, public expenditure and net exports for coronavirus.
Mr Titumir said the share of private investment to the GDP has hovered around 23 per cent for the past few years.
"The downturn will be swollen by income erosion, diminished savings and, hence, dwindling investment sourced from savings," he added.
Mr Titumir said earnings from remittance have declined significantly because of COVID-19 as an estimated 300,000 workers returned from abroad.
"Job loss and reduction in remittance earnings will dampen consumption spending, thus constricting the GDP since private consumption is 70 per cent of the GDP whilst export earnings in April fell by 83 per cent compared with the past year's figures."
Former FBCCI president Abdul Matlub Ahmed said Covid-19 has highlighted the importance of domestic sectors like agriculture, healthcare and small businesses.
The government has proposed a budget to give and not to take, he remarked.
Mr Ahmed also said everyone should be ready to sacrifice to recover from the impact of the pandemic.
Centre for Policy Dialogue executive director Dr Fahmida Khatun, environmentalist Syeda Rizwana Hasan, former FBCCI directors Abdul Haque and Shoeb Chowdhury, journalist Zahiduzzaman Faruque and Centre for Governance Studies acting chairman Dr Manjur Ahmed Chowdhury also spoke.
Zillur Rahman, executive director of the centre, moderated the webinar.