The International Business Forum of Bangladesh (IBFB) has termed the proposed budget as usual one at an unusual time.
"We did not get a budget we expected during the corona virus crisis period. It's a usual budget," IBFB president Humayun Rashid told a virtual press meet on Tuesday.
During and after the pandemic, he said, the country will face various challenges, but the preparation is found to be absent.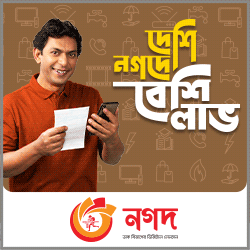 Mr. Rashid said if the government borrows Tk 845 billion from banks to meet its expenses, private- sector investment will face challenges.
He also pointed out a mismatch between the government's proposed income and expenditure.
The IBFB president, however, hailed the decision about raising the tax-free income ceiling which, he said, will lessen pressure on low-income group of people.
He called for lowering corporate tax by 5.0 per cent for public limited companies, saying that it will be beneficial for shareholders.
Mr. Rashid suggested bringing reforms of revenue collection, capacity enhancement and reducing unwanted spending.
He said the decision to enhance duty on mobile phone users during the pandemic period was not taken appropriately. Any additional tax on savings will create pressure on the middle-income group of people, he added.
The IBFB president said legalising undisclosed money cannot be supported when the budget itself talked about tough stance against corruption and ensuring good governance.
"Taxpayers will feel discouraged if anyone can legalise money by paying 10 per cent tax," he said.
Former IBFB president Hafizur Rahman Khan termed the budget as a traditional one and said it is not investment-friendly.
"There is nothing in the proposed budget that can expedite investment," he said.
IBFB vice president M S Siddiqui said reforms were needed to attract investment which is necessary for trade facilitation, lowering the cost of doing business.
"We didn't see any reform measures in the budget speech… so we can't expect investment growth," he said.
Dr Hosne Ara Begum, founder executive director of TMSS, Bangladesh, said government's large borrowing will contain fund flow towards the private sector and the rural economy which needs to be addressed.
Former chairman of National Board of Revenue (NBR) Dr Muhammad Abdul Mazid said it is clear that the revenue collection target would not be achieved in the next fiscal year.
"The government will then have to depend on either bank or foreign borrowing which needs to be carefully handled," he said.
He said some 12 per cent of total budget expenditure is going to be spent on loan interest payment. "We have to think about whether to go for high-cost loans or not."
Mr Maid suggested not to enhance indirect tax which touches everybody across the board. "We need to be very careful on indirect tax during this crisis period."
He said there is no difference over bringing undisclosed money in investment but that is immoral and will encourage the creation of more illegal money.
IBFB founding president Mahmudul Islam Chowdhury, vice president Lutfunnisa Saudia Khan, directors Dr Mozibur Rahman, Dr Ali Afzal, M Shoeb Chowdhury, Mohammad Ali Deen, Tauhida Sultana, and Md Fakhruddin, among others, attended the meeting.