Country's Terms of Trade (ToT) remained unchanged in the past fiscal year (FY17), according to the statistics available with the Bangladesh Bank.
It showed that terms of trade stood at 87.11 in the past fiscal year which was same in FY16.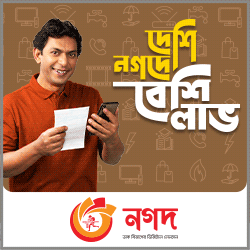 "The growth of export price index and import price index remained same at 5.5 per cent during the year," said the central bank in its latest annual report.
Terms of trade represents the ratio between the export prices of a country and the import prices. It is calculated by dividing the price of the exports by the price of the imports and multiplying the result by 100.
Generally, when a country's terms of trade is less than 100, it is interpreted as more capital is leaving the country than is entering the country.
Again, when the terms of trade is greater than 100, it is considered that the country is accumulating more capital from exports than it is spending on imports.
In Bangladesh, the terms of trade is usually less than 100 per cent means that the terms of trade is not in a favour of the country. The trade deficit reflects the scenario also.
Merchandise trade gap stood at US$ in the past fiscal year.