The World Bank (WB) will provide US$ 300 million to Bangladesh as a credit to implement the Resilience, Entrepreneurship and Livelihood Improvement (RELI) Project.
The signing ceremony of the financing agreement with the Economic Relations Division (ERD) under the Ministry of Finance, and a project agreement with Social Development Foundation (SDF) was held on Sunday.
ERD Secretary Fatima Yasmin and WB Country Director for Bangladesh and Bhutan Mercy Miyang Tembon signed the financing agreement.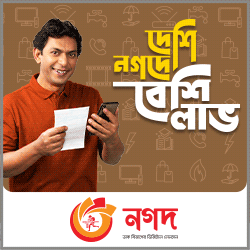 AZM Sakhawat Hossain, managing director of SDF, an autonomous organisation under the Financial Institutions Division of the Ministry of Finance, signed the project agreement.
SDF Chairman Md Abdus Samad was present at the event.
The RELI Project is scheduled to begin from July 2021 for five years whee the government's contribution will be $40 million totalling the project cost to $340 million.
The objective of the project is 'to improve livelihoods of the poor and extreme poor, enhance their resilience and support rural entrepreneurship in project areas'.
To predominantly address the emergency economic initiatives of the government of Bangladesh to fight the Covid-19 crisis and climate-induced events, the RELI Project would focus on the livelihood support for the vulnerable people, support for their recovery and resilience building, employment generation, entrepreneurship development, and post-crisis economic recovery preparation in the intervening areas.
The project is suitably aligned with the Bangladesh Delta Plan (BDP) 2100 and the eighth Five-Year Plan of the government of Bangladesh, according to a press release issued by SDF.