Lockdown back in 2020 got us all glued to Coursera, Udemy and many other international educational websites that could accredit us with several courses. As much as we all enjoyed using those platforms, it is time Bangladesh comes up with its own platform to cater to the demand, and 10 Minute School has done it with perfection.
10 Minute School 'Skills' is a brand new segment of the popular EdTech company which is an entire wing dedicated to honing efficiency on mandated corporate expertise, creating pathways for earning from home, unleashing creative minds, improving the hold on English language and preparing for government job recruitments. It has been launched with the sole purpose to eliminate the basic obstacles the aspiring job holders face on a daily basis, and to provide the mass market with an opportunity to learn something new at an affordable unit price.
So what does Skills have? To begin with, it has the company's best-selling course on spoken English by Munzereen Shahid - Ghore Boshe Spoken English. With over 80 videos, quizzes, notes and interactive contents, it was an overnight success. On the other hand, following the same route, another amazing piece of work came up named 'English Grammar Crash Course' for people who are weak in grammar. And this time, the instructor is none other than the very celebrated Sakib Bin Rashid.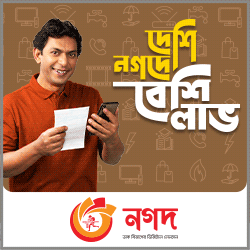 However, language is not the only hurdle one faces in the workplace. There are certain strengths one must have in order to shine in a career. One of such strengths is Microsoft PowerPoint. Offering over 50 videos, 2 exams and 52 PowerPoint files, 'Microsoft PowerPoint: Beginner to Expert' is a perfect fit to groom presentation-making fortes. This course has been crafted by Sadman Sadik, who is an educationist and an author.
There is another course that will suffice a learner's needs in a different dimension. It is 'Graphic Designing With PowerPoint,' instructed by successful graphic designer Anisha Saiyara Taznoor. With a wide range of resources, this course is a great package to start a graphic designing career.
Another great resource of Skills is 'Microsoft Excel: Beginner to Expert' by Abtahi Iptesham. This course is a hands on collection of assets like 50+ videos, 50+ quizzes and 50+ workbooks. On the other hands, the unique 'Web design' course by Fahim Murshed is a breath of fresh air for tech students. It is outlined with 46 videos, 44 exams and 11 assignments to introduce one to the world of web designing.
Moreover, other than these solid courses, Antik Mahmud's 'Cartoon Drawing and Animation' course is a fine way to learn the art of visualising one's imagination. And last but not the least, 'Ghore Boshe Freelancing' by Joyeeta Banarjee and 'Chakri Jiboner Prostuti' by Solaiman Shukhon are the remaining courses of this collective platform.
In conclusion, 10 Minute School Skills is a tremendous platform for people to learn what they previously could not. Long gone are the days where people would have to travel miles to get mentored by the best trainer or teacher. With an amount of Tk 450 per course, one can have the world in one's hands.
The article is presented by FE-10MS affiliate partnership.