Almost half (49 per cent) of the respondents surveyed in the coastal area of the country have no clear idea about the primary protective measures against the novel coronavirus.
Besides, 74 per cent of the total people surveyed said they do not know about IEDCR (Institute of Epidemiology Disease Control and Research) -- the disease control authorities in the country-- and its service.
COAST Trust, a non-government organisation working in coastal areas of Bangladesh, conducted the study titled 'Covid-19: Awareness and Practice Survey 2020' and unveiled the findings on Thursday.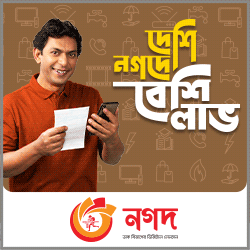 COAST Trust has conducted the survey on its own fund.
The monitoring and research department of COAST Trust conducted this survey among the low wage earners in Cox's Bazar and Bhola district through random selection method.
The survey also covered two small islands in the Bay of Bengal Kutubdia and Char Motahar of Bhola.
Rezaul Karim Chowdhury, executive director of COAST, said "The organisation conducted the survey to know how poor people of the coastal area are fighting against this completely unknown disaster."
He added COAST's mandate is to develop the socio-economic status of the vulnerable and disadvantaged people of the coastal area, and the basic objective of the survey was to assess primary knowledge of the coastal poor and how they are complying with the health directives.
47 per cent of the respondents of the survey were women and the rest were men.
Of women respondents, 80 per cent were housewives and the rest included students, dropped out adolescents and elderly people.
10 per cent of the respondents were farmers, 18 per cent labourers, 19 per cent small entrepreneurs and 13 per cent fishers.
Despite the massive awareness across the country, 43 per cent respondents said they are not able to follow those rules for different reasons including less availability of soaps all the time.
26 per cent of the respondents have misconception on how the virus spreads while 53 per cent of them are not fully aware of the primary symptoms of a Covid-19 positive person.
Almost all of the housewives said that they did not directly have the access to information on Covid-19, and they had to depend on the family members who go outside.
The survey showed, it is hardly possible for the lower wage earners to stay at home.
Two-thirds of the respondents (66 per cent) said that the number of devotees in the mosques has reduced.
56 per cent respondents do not know about 'home quarantine' or have misconception about it while 13 per cent do not know why one should use mask.
The survey was conducted from April 10 to 19, 2020 and the sample size was 250.