Police arrested 568 people in Dhaka for violating lockdown restrictions on the seventh day of the 14-day countrywide lockdown on Wednesday.
The arrestees failed to show any valid reason for coming out on the streets, said DMP Additional Deputy Commissioner (media) Iftekharul Islam.
Meanwhile, mobile courts collected Tk 340,100 as fines from 206 people.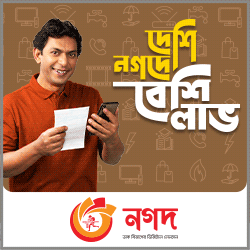 During this time, the Traffic Division collected Tk 997,500 as penalties from 431 vehicles for failing to comply with coronavirus lockdown restrictions.
However, any amount of fines or deaths recorded due to Covid-19 is apparently not enough to keep people at their home as traffic on the streets of capital Dhaka is increasing with every passing day amid the lockdown.
The number of vehicles and people increased substantially on Dhaka streets on Thursday.
Many people were seen coming out and wandering without any valid reason while health protocols are hardly maintained in most cases.
However, the movement of private vehicles has increased as many private offices have arranged vehicles for the movement of their own staff. But public transport stayed off the roads as per the directives of the government.
People were seen reaching their destinations by rickshaws as it is available during the lockdown.
Traffic inspector Asaduzzaman, said, "The number of vehicles is increasing day by day. We're checking every vehicle. Those who failed to justify their outdoor movement are fined and cases lodged for violating lockdown rules."