Sustainable drinking water solutions, introduced under the NoboJatra (New Beginning) project funded by USAID and implemented by World Vision Bangladesh (WVB) in four salinity-hit upazilas in the south-western region of the country, can end scarcity of safe drinking water in coastal areas.
Water-purification solutions like reverse osmosis, arsenic iron removal, pond sand filters, and rainwater harvesting can be sustainable options to ensure people's access to drinking water in the coastal districts dealing with increased salinity and climate- change issues, project officials said.
The NoboJatra Project (NJP) is a USAID Resilience Food Security Activity committed to enhancing the resilience of vulnerable populations around the world.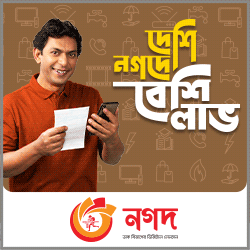 The key components of NJP, being implemented from 2015 to 2022 by WVB, include maternal child health and nutrition (MCHN), water sanitation and hygiene (WASH), gender equity and youth development, disaster risk reduction (DRR), agriculture and alternative livelihood, and good governance and social accountability.
The WASH initiative, one of the NJP's key concentrations, was helping in improving the quality of drinking water in Khulna's Koyra and Dacope upazilas and Satkhira's Kaliganj and Shyamnagar upazilas which are known as salinity-prone areas.
Around 148,066 people from these four upazilas, who were bound to drink saline water or collect drinking water from distant sources, have gained access to basic drinking water services through 3,319 water options installed under the NJP.
Under the initiative, a total of 400 tube-wells, 191 pond sand filters, 17 solar pond sand filters, 2,672 rainwater harvesting systems, two community rainwater harvesting systems, 10 reverse osmosis (RO) plants, and 27 arsenic iron removal plants were installed.
Visiting an RO plant recently at Pania village of Moutala union in Kaliganj, the FE correspondent observed that a significant number of households in the village and adjacent areas are now dependent on the plant for safe drinking water as tube-wells in the area are unusable while deep tube-wells also pump saline water.
"About 281 households out of 920 in the village now directly fetch drinking water from the plant while people from adjacent villages also come," said Rumana Haque, assistant system strengthening officer of NJP.
Mosammat Sadia Ferdous, a fourth-grader who regularly collects water from the plant said, "Before that plant was opened, I had to walk from home some 40 to 50 minutes with my mother to fetch water from a deep tube-well and come back with filled jars, bottles and pitchers."
Recalling the hardship endured two years ago, she said, "Now I can come any time to collect water as my home is just five minutes away from here (RO plant)."
Nur Mohammad, one of the three water vendors of the plant, who supplies water in jars to distant households, said he has about 50 permanent customers who regularly receive water from him.
He can also earn some Tk 6,000 to Tk 7,000 by supplying jarred water using a cycle van.
Beneficiaries can collect water from the RO plant at a cost of Tk 0.40 per litre while many people also buy the 20-litre water jars from vendors at a cost of Tk 15 to Tk 20, depending on the distance from the plant, said Md Ayatullah Al-Mamun, WASH Technical Advisor of NJP.
The RO plant built at Pania village involving Tk 1,946,470 started operating in September 2019. In the last two years, the plant supplied about 1.42 million litres of water to its customers.
While asked about people's affordability in the area to purchase purified water, a member (reserved seat) of Moutala union and RO plant management committee president Mahfuza Khatun said, "The price of the water is not that much if previous suffering of people to collect water is considered."
She also noted that at least seven/eight destitute families collect water free of cost from that plant.
Currently, about 90 per cent of the people have access to water in Satkhira but if the distance of the water source is considered, about 74 per cent of the people in the district can fetch water within a 30-minute walk, Mr Mamun said.
For last two years, the NJP has been in sustainability, systems strengthening and transition phase with NJP participants and government managing the establishments through community-led efforts and activities.
WVB has been working with the Department of Public Health and Engineering (DPHE), water and sanitation (WatSan) committees, water management committees, Union Parishad, local NGOs and other stakeholders to make water solutions sustainable.