The Bangladesh Fisheries Research Institute (BFRI) in Mymensingh has been successful in inventing the technology and process of bringing 23 endangered fish species back to canals and rivers.
Scientists at the BFRI has developed breeding and farming techniques to preserve the endangered local fish varieties in Bangladesh.
Fish biodiversity is being restored with the use of the technologies at the field level and the establishment of sanctuaries in rivers and canals to increase the production of endangered fish. By using these technologies, fishermen now can produce endangered fish and its price has come within the reach of the middle income family.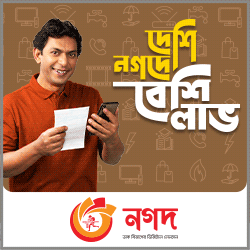 The abundance of almost extinct species of fish has been brought back in the food list of the people of the country. The availability of endangered fish in the market is increasing day by day.
The 23 extinct species are: Pabda, Gulsha, Tengra, Shing, Magur, Guji , Chital, Foli, Mahashol, Bairali, Rajputi, Meni, Balachata, Gutum, Kuchia, Bhagana, Desi Sarputi, Kalbaush, Kai, Gajar, Bata.
Of the 260 species of freshwater fish in Bangladesh, 64 species are endangered. Over the past few decades, the availability of fish in natural reservoirs has been steadily declining due to population growth, contraction of water bodies, excessive use of water, indiscriminate use of pesticides in agriculture, water pollution and over-extraction.
Of the 260 species of freshwater fish, 143 are small species. The contribution of small fish in the fish production of the country is 30-35 per cent. At present more than 400 hatcheries are working to produce native fish.
In Mymensingh region alone, 2 billion (200 crore) Pabda and Gulsha fish are being produced. At present field level Pabda, Gulsha, Shing, Tengra, Magur, Kai are being cultivated extensively. Bata fish farming is increasing lately.
The importance of fisheries resources in the economy of Bangladesh is immense. The contribution of the fisheries sector to the country's GDP is 3.61 per cent. A large part of this fisheries industry is small species of native fish.
According to institute sources, previously only research on endangered fish conservation and development was conducted from the institute's freshwater research center in Mymensingh. At present, in addition to the Mymensingh Freshwater Center, research is being conducted on endangered fish conservation at Bogura, Santahar, Syedpur in Nilphamari and Jessore. The institute is currently conducting research on the breeding and cultivation of endangered fish dhela, shawl, baim, kakila and angush vol fish and coastal kawn fish.
In this regard, the director general of the institute Yahya Mahmud said, "During the tenure of the present government, research on endangered and native fish conservation has been intensified and special initiatives have been taken by the institute to bring all our endangered fishes back to the dining table."