The government has made registration under the membership programme of the Wage Earners' Welfare Board (WEWB) mandatory for expatriate Bangladeshis to bring them under its database.
To this effect, the Ministry of Expatriates' Welfare and Overseas Employment issued a circular on October 7.
It directed the Bangladesh missions abroad to enlist expatriates mandatorily under the WEWB membership programme while providing consular services to them.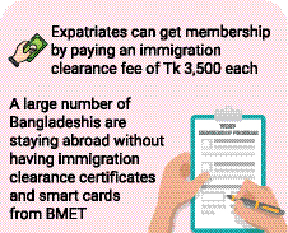 It also suggested initiating campaigning programme to increase the number of memberships.
The WEWB launched the enlistment programme for the Bangladeshi expatriate workers and diaspora (long-term expatriates) in June 2017 to bring them under the government database.
The expatriates can get membership by paying an immigration clearance fee of Tk 3,500 each. Only 66,123 Bangladeshis received membership cards until June 2021, showed the WEWB data.
Except some, campaigning programme - conducted by most of the missions - was not satisfactory, the circular said.
Earnings from immigration clearance fees from the Bureau of Manpower Employment and Training (BMET), and membership charges from the WEWB are vital sources of income of the welfare fund. The fund is being used for different types of welfare activities for expatriates, it noted.
"Bangladeshi expatriates go to the missions regularly to receive various services like new passport issuance and renewal. Besides, they also enjoy different types of consular supports. If the enlistment is made compulsory, the number of memberships under the database will increase."
Expatriates would also be benefitted, if they become members of the board, it added.
A large number of Bangladeshis are staying abroad without having immigration clearance certificates and smart cards by the BMET. Usually they are not entitled to receive services of the WEWB. If they get enlisted in the official database, they would be allowed to enjoy services and benefits, provided by the board.
Officials and sector insiders said every year a significant number of workers go abroad through unofficial channels. After a certain period, many of them get legal status. They can apply for the membership card.
Migration experts said the embassies should be proactive to bring more Bangladeshi expatriates, especially workers, under this arrangement to ensure services.
The WEWB maintains a welfare fund for the expatriate Bangladeshis, and provides different services and financial supports to them.
The families of dead migrant workers get Tk 300,000 each as financial support, and ailing workers get Tk 100,000 each for treatment purposes from the WEWB.
It also runs a stipend programme for meritorious children of the migrant workers. In addition, it has recently taken a reintegration programme for the Covid-impacted returnee migrant workers.
The BMET statistics showed that more than 13 million Bangladeshis have gone abroad since 1976. Most of them are working in the Middle-East countries.