RAJSHAHI, Oct 23: Hundreds of endangered Shamuk Khol (Open Billed stork) have been killed and injured in recent incessant rainfall and storm like weather at Shamskhalsi village birds' sanctuary under Naldanga upazila of Natore district.
It is learnt, there was countrywide incessant rain associated with strong wind due to low in the Bay on last Friday and Saturday. In Chalanbeel area of Naldanga, the impact of rainfall and the storm was severe. It caused widespread damage of the nests of migratory Shamuk Khol at the birds' sanctuary of Shamskhalsi village, killing more than one hundred birds and injuring scores more.
At the same time scores of rare Shamuk Khol birds were also killed and injured in reserved bird gardens of Rajshahi due to the impact of sudden storm and incessant rainfall on last Friday and on Saturday.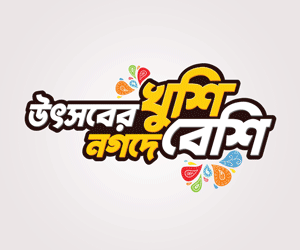 Being informed, officials of Forestry Department rushed to Shamskhalsi village of Naldanga and rescued many of the injured Shamuk Khol. Most of the rescued birds were young chicks and were unable to fly.
Mahmudul Islam Mohsin, local union council member informed, due to incessant rain and windy weather, more than 100 Shamuk Khol of the Shamskhalsi village sanctuary were killed. Rescue personnel from Forestry department, however, rescued 68 birds which fell from the trees. He further said, failing to cope with gusty wind and heavy rainfall, several hundred Shamuk Khol birds took shelter at the houses of the village. Fire Brigade personnel from Natore visited house to house of the village and rescued live birds but most of the injured birds were slaughtered, cooked and eaten by the villagers.
Alim Uddin and Yousuf Mia, Nursery Assistants of Rajshahi Forestry office also rescued the injured birds and chicks and tried to recover the injured birds by warming those through heating. They also took some of injured birds to Rajshahi for better treatment.
Asaduzzaman Asad, former vice chairman of Naldanga upazila, former union council member Ibrahim Hossain and environment activist Ziaul Alam also visited the village and conducted rescue operation of birds with the help of villagers.
Locals said, most of the dead birds were chicks and some adult birds which took shelter at the houses of villagers to save themselves from the grip of wind and rain, were caught and slaughtered by the house owners for consumption of meat.
Mainul Islam, Official of Natore Fire Service station informed, they so far recovered 70 dead birds of various ages and rescued 38 small and 30 large birds and after giving first treatment, those were released in air.
Meanwhile, scores of Shamuk Khol and birds of other species were killed in gusty wind and incessant rainfall in two reserved bird colony at Rajshahi Central Jail and Rajshahi old GPO area on Saturday. Most of the injured birds were caught by people of the locality and were slaughtered.
It is learnt, several hundreds of Shamuk Khol (Open billed stork), Egret, Pan Kouri (Cormorant), White Stork, Ratchora (Nightjar), and Bali Hash (Cotton Teal) and some other kinds of migratory birds used to stay on large trees of the gardens of Rajshahi Central jail and old Rajshahi GPO. These birds used to come in the area in between March to July to find shelter for reproduction but now those birds were staying round the year there though their number increases after the end of the month of March.
Most birds staying in these two gardens went out every morning to collect food and returned home by dusk. The young birds or nestlings are kept under the supervision of the male birds. This way the young birds are kept safe under the care of both male and female birds. The recent gusty wind and rain had killed many young birds and injured adults. People of the locality had caught the injured birds before the rescue team from fire service and forestry department appeared at the scene.
Shiraj Uddin, a local betel leaf and cigarette vendor informed, migratory birds are permanently staying at the garden of Postal Training Centre for almost six to seven years. He added, those birds have also taken shelter at the Central Jail garden. He also complained, formerly, jail guards of Rajshahi central jail used to hunt these birds. As a result, those birds did not feel safe to stay there permanently. Presently, hunting of those birds have been strictly prohibited and that is why the number of migratory birds was increasing in both gardens round the year. But, he said, due to recent two day long gusty wind and rain, nests of many birds were destroyed and young chicks of the birds were killed and injured. He worried that the birds of the gardens would flee during the next season due to widespread destruction of nests and dead of chicks and adults birds in rain and windy weather.