A growing number of transgender people roam around Dhaka for the lure of huge informal economic opportunities, often tormenting the city- dwellers both financially and mentally, as their rehabilitation programmes foundered.
Insiders say supremo 'gurus' of these people in different command areas and unseen beneficiary groups abort government programmes for mainstreaming these social outcasts, as the figures of money, mostly extorted by throwing people in embarrassing circumstances, are fabulously tall.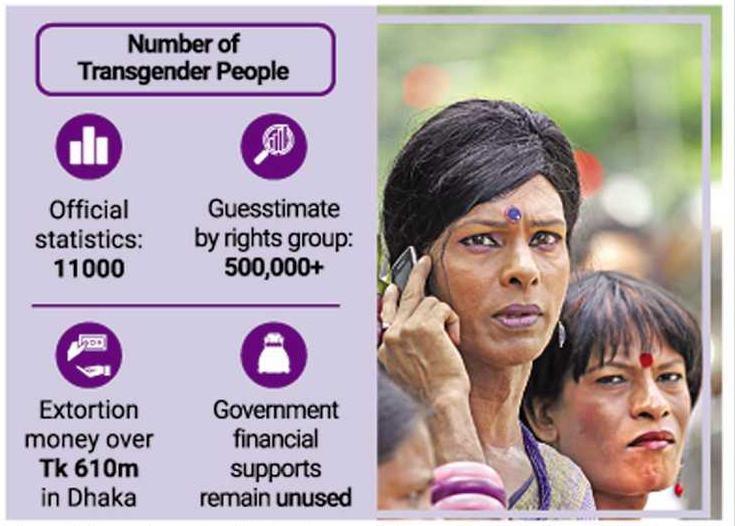 Transgenders are people whose gender identity is different from the gender they were thought to be at birth. 'Trans' is often used as shorthand for transgender. When they are born, the doctor usually says that they are male or female based on what their bodies look like. Usually third gender comes from female which in many cases can be cured.
There are no effective organisations to take care about minimum living of the least- privileged segment of the population even though the pains of the common people are mounting as city residents become worst victim especially at a time when a newborn comes and wedding take place. They have to pay a king's ransome perforce on such social occasions.
Although the government, amid pressure from a number of rights groups, officially recognised the community as the third gender eight years back, there had been no official data about actual number of this group.
But a number of government agencies told the FE that the third-gender persons do not receive the allowance or stipends as they [transgender] believe the government grants are inadequate to meet their livelihood.
The Ministry of Social Welfare claims that there are some 11,000 transgender people here but the claim was stubbornly denied by the rights groups who think the number could cross half a million.
But they hint that there are many sub-groups who capitalize on the genuine third-gender persons to seize economic opportunities in the urban areas.
According to the community, there are people who maintain a tradition of three-tier power structure among the so-called Hijras. In this power practice, Guru (master) leads a group followed by Chella (adopted daughter by Guru) and Nati Chella (adopted granddaughter).
The transgenders come out onto the streets capturing all important intersections of the busy city from early morning and roam around till late evening. They target passers-by and passengers of different modes of transport. They release them upon receiving cash amounting to Tk 10-Tk 20 each.
As the earning opportunities are much higher in the densely-populated capital city, the inflow of transgenders from various corners of the country keeps rising here and into other mega- cities.
Earlier, activities of the members of this community were concentrated largely around the residential areas, collecting monthly tolls from shops, weddings and newborns and social festivals. But their activities are now expanded everywhere, even in the open places like parks and lakesides where people go for pastime.
Abdur Rouf, a trader, says a group of hijra came to his flat in Purbo Hazipara last month and asked a toll of Tk 4,000 for his four-month baby. He had offered them Tk 1,000, but they refused to take the amount and started clapping and shouting.
As he warned of calling police, the hijra people got angry and raised the toll to Tk 6000, up by 50 per cent.
For help, he called 999. But, instead of taking immediate action, suggestion came for him to communicate with local police station. Nobody did come to his help, nor even any police.
"It seems that we were held hostage at gunpoint. We had no other option but to give the toll of Tk 4000," he said, on a note of frustration.
Monowar Hossain, who works at a private company, said he got a receipt from a hijra group in Rampura after giving them a toll of Tk 1,500 days after his son was born, but they lost the money slip when they shifted just 500 yards away from his earlier apartment in the same area.
The hijras again came to his newly rented apartment and charged toll for the same baby. As they failed to show the previous money receipt, they were forced to pay the penalty-- another amount of Tk 1,500, according to him.
"What is going on here? We become their (transgenders) target at home, shops, streets and even on transports. I think extortion festivals without any disturbance from any quarter are happening. Just think how much they earn a month," he wonders.
Here comes a sad story behind the story of what is seen as social nuisance. Maleka, a guru who leads a 35-member team in Mirzapur of Tangail district, said the family and society they belong to did not recognise their existence. It prompted them to migrate to other areas for survival with minimum dignity.
But the quest for a minimum living in most cases is not smooth as society is not positive for them, she says.
She says they have been struggling to survive with the money come from shops, weddings and baby birth as there is not enough protection coverage from the government for them.
"My team monthly earns Tk 25,000. It becomes very tough to survive with the money for 35 people. That's why people are now moving towards Dhaka to earn more," she argues.
Moyna Apa, another guru based in Rampura, said they collected weekly toll of Tk 10 from each shop in her locality while collecting average donations from baby birth and wedding at Tk 1000 and Tk 1500 respectively.
"Our survival largely depends on people's donations as none gives us any opportunity to work. But we're human beings, we have rights to exist in society," she says.
A member of Moyna's team, on condition of not naming her name, says that 40 per cent of the earning is taken by the Guru while remaining part is shared equally among the members.
"Guru takes the major part as she gives us protection from any trouble," she said, adding that the money is also shared with some other groups.
She, however, did not agree to explain in detail about the groups.
Interestingly, the annual budget for the communities keeps declining in recent years. In financial year of 2018-2019 (FY'19), the government allocation was Tk 114 million but the volume declined by more than 50 per cent to Tk 56 million in FY'21.
Seeking anonymity, an official at the department of social service said they cut down the budget as transgendered people are reluctant to get the services like scholarship, old- age allowance and livelihood training. "So we cannot use the fund and it goes back to the exchequer."
Nobody has ever calculated the size of income of the least- privileged portion of society. The FE correspondent made a guesstimate over their earnings by multiplying the minimum charge with the actual weddings and births per annum.
There are four major earning areas for transgender people. These are extortion from shops, weddings, birth of babies and transport passengers.
According to the birth registration of Dhaka south and north city corporations, some 404,619 babies were born in 2021. The community charges toll ranging from Tk 1,000 to Tk 10,000 in each case, depending on the localities. If one calculates minimum toll, the annual figure is over Tk 400 million or Tk 40 crore.
On weddings, some 42120 wedding ceremonies took place in Dhaka district in 2020, according to official data.
According to the hijra people, they charge minimum toll of Tk 1500 from each wedding. Keeping the figure in mind, a minimum amount of Tk 63 million or Tk 6.3 crore comes from the area alone a year.
On the other hand, minimum Tk 120 million or Tk 12 crore comes from 25,0000 shops (according to Bangladesh Dokan Malik Samity) in the metropolitan area on the basis of weekly toll of Tk 10 a shop.
Transport is another key earning area of the communities. BRTA (Bangladesh Road Transport Authority) data show that there are some 6,000 registered buses in the city but owners claim 30 per cent of the buses are not operational for various reasons. It means at least 4000 buses are in operation. If the transgenders collect minimum Tk 20 from each bus a day, the accumulated volume of yearly toll from the area is over Tk 28 million or Tk 2.88 crore.
All together, the city people annually pay toll amounting to Tk 611 million or Tk 61.10 crore. But many believe it would cross more than Tk 1.0 billion if one calculates other types of charges in footpaths, parks, playgrounds, social festivals like Pahela Boishak and two Eids.
Rani Chowdhury, a dancer-cum-transgender activist, says the inflow of trangenders to the city continues rising because of very little social protection covering the area.
Newcomers fall in more troubles coming to Dhaka because the existing transgendered groups will not allow anyone to share their fixed incomes.
"So, they come to the streets and take tolls from streets and transports through concerned Guru of the area. In that case, newcomers have to pay 15-20 per cent of their earnings to the Gurus," she said.
"If you ask, Gurus will deny it because they were asked by rights groups and NGOs not to come to streets," she says.
When contacted, Mohammad Rofiqul Islam Royal, Manager of training and counseling and gender focal of Bandhu Social Welfare Society, said the government in 2013 officially recognised hijras or transgenders as the third gender, which is good.
But the recognition in some cases creates fresh problems as hijras face too many questions from people while collecting tolls as to why they are still in the profession although the government recognised them.
"But the reality is not that favourable. The recognition will become fruitless unless a separate law is enacted. We contributed to making a draft law initiated by the National Human Rights Commission (NHRC)," he said.
When contacted, NHRC chairman Nasima Begum said they will start holding stakeholder meetings about the draft law soon.
"The definition of the community needs to be easily understandable to all and they will consider an option of punishment for the guardians in the law so that guardians cannot leave their transgendered child," she says.
She frustratingly said she arranged training, accommodation and schooling facility to give them new favourable climate as part of a rehabilitation move while she was the director- general (DG) of the Department of Social Service.
But after few days, they all came back to their previous business on excuse that they did not feel comfort in non-tiles- fitted accommodation, she said.
"Guruma, in some cases, creates obstacle in bringing hijra people into the mainstream of society," she adds.