A suspected drug trader and an alleged robber were killed in separate gunfights with police in Kushtia and Barishal districts in the early hours of Tuesday.
In Kushtia, suspected drug trader Emdad Khunkar, 38, was killed in a reported gunfight with police in Adarbaria Chochua bil in Kumarkhali upazila.
He was the son of Rafiuddin Khunkar of Karimpur village and was accused in several drug cases, said AKM Mizanur Rahman, officer-in-charge of Kumarkhali Police Station.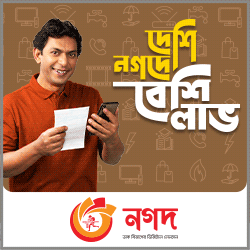 Being informed that a gunfight between two groups of drug traders sparked, a team of police conducted the drive in the area.
Sensing presence of police, the criminals opened fire on them, forcing the force to fire back, triggering a gunfight.
After the gunfight, police rescued Emdad with bullet injuries, reports UNB.
The injured was rushed to Kushtia General Hospital where doctors declared him dead.
Police recovered a foreign-made pistol, three round of bullets and 100 contraband yaba tablets from the spot.
In Barishal, alleged robber Mamun Sarder, 27, son of Malek Sarder of Khunna area in Hijla upazila, was killed in another reported gunfight with police in Kazirhat area of Mehendiganj upazila at around 2:00am.
Abdul Khalek (PPM), officer-in-charge (investigation) of Kazirhat Police Station, said that a case was filed in connection with a robbery incident at the house of one Panna Mir on February 5.
Later, police arrested alleged Rasel in this connection.
Following Rasel's confession that the robbery was planned by Mamun, a team of police in a drive arrested Mamun from Muladi bridge area at around 8:00pm on Monday.
After gleaning information from Mamun, a team of law enforcers conducted the drive to recover the robbed goods.
Sensing presence of police, Mamun's accomplices opened fire on them, engaging in a skirmish Manum was severely injured with bullet injuries.
He was taken to Muladi Hospital where doctors declared him dead.
Saiful Islam, superintendent of Barishal police, said that Mamun was accused in several cases including that of robbery.
One shooter gun, a pipe gun, two-round rifle bullets, two-round pistol bullets, several bullet shells, two machetes as well as several masks were recovered from the spot.