CHATTOGRAM: Even though Chattogram Development Authority (CDA) in association with Bangladesh Army has been implementing the Tk 60 billion mega project since 2018 last, the people of Chattogram continue to suffer from waterlogging during the rainy season.
CDA, the project implementing agency, has sought Tk 10 billion more as consolidated allocation to acquire the land of canal. It sent a letter to the housing and public works ministry in the current week, seeking extra funds.
CDA officials said, "The government will allocate Tk 4 billion in 2022 to continue the work of the mega project. But CDA sent the letter to the ministry, seeking Tk 10 billion more as consolidated allocation to acquire the land of canal."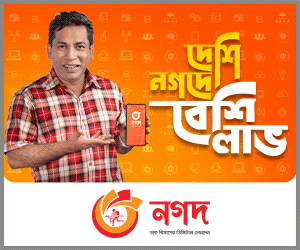 Chief Engineer of CDA Hasan Bin Shams said, "A high-powered committee of the government visited the project recently. The allocation is important to complete the digging of the canal during the dry season."
Sources said Prime Minister Sheikh Hasina directed the authority concerned to resolve waterlogging crisis in the port city. So, the government has been implementing two mega projects since April 2018 to solve waterlogging crisis in Chattogram permanently.
Water Development Board (WDB) has taken up another mega project of Tk 25.95 billion.
Executive Engineer of WDB Biddut Kumar Saha said, "WDB has undertaken the project to free the port city from waterlogging. Under the project, WDB will construct sluice gates and excavate and dredge canals. The pump houses which will be set up under the project will control waterlogging."
"Under the project, WDB will also construct city protection embankment on the right side of the River Karnaphuli. The project work will start after getting approval from the Executive Committee of National Economic Council," he added.
Corps of Engineers of Bangladesh Army started the work of the mega project on 24 April 2018 last. With the approval of the 'canal excavation, re-excavation and development to resolve water-logging in Chattogram city', the government has directed the authority to implement the project in an integrated manner.