The central bank has asked all the scheduled banks to extend the working period for customers by one hour before the upcoming Eid-ul-Azha, officials said.
The banks have also been instructed to run operations on a limited scale during the government announced coronavirus-induced nationwide strict lockdown until July 14, they added.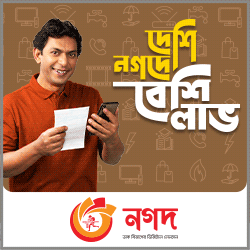 Banking transaction period has been re-fixed from 10:00 am to 2:30 pm instead of 10:00 am to 1:30 pm earlier on each working day, according to a notification issued by the Bangladesh Bank (BB) on Tuesday.
Besides, the banks have been asked to provide services on a limited scale from July 08 by keeping their branches open from 10 am to 4:00 pm instead of 3:00 pm earlier, it added.
Under the notification, clients would be allowed to settle financial transactions until 2:30 pm instead of 1:30 pm earlier on each working day until July 14.
"We've extended the banking transaction period by one hour considering the necessity of the public before the Eid," a BB senior official told the FE while explaining the main objective of the notification.
As per the notification, the banks will remain closed on Sunday along with two-day weekly holidays to halt the sharp rise of the Covid-19 infection in the country.
The central bank has taken the decision after extending the countrywide lockdown by the government until July 14 to curb the infections.
Meanwhile, trading time on the Dhaka Stock Exchange (DSE) and Chittagong Stock Exchange (CSE) has been extended by an hour effective from Thursday.
Trading at the bourses will remain open for four hours from 10:00 am to 2:00 pm in line with the banking hours during the second week of coronavirus-induced nationwide hard lockdown from July 8 to July 14, officials said.
The trading time at the two bourses has been extended in line with banking hours, said an official of the Bangladesh Securities and Exchange Commission (BSEC).