Grameenphone'snet profit grew by 6 per cent year-on-year in the third quarter to Tk 9.1 billion, helped by growth in data use.
And 4G users grew by 15.9 per cent year-on-year. As a result, earnings per share rose to Tk 6.72 for July-September from Tk6.34 a year ago.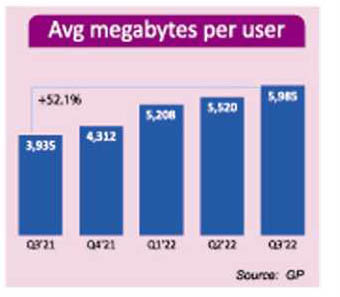 During the period, its subscriber base declined by 2.9 million to 81.8 milliondue to a ban on sales of new SIMs, imposed in June as,Bangladesh Telecommunication Regulatory Commission said, its service quality had deteriorated by frequent call drops and breaking up of voices.
The operator, however, came out strong with its "investment in network rollout and spectrum deployment" leadingto the remarkable growth in internet use, according to a press release issued yesterday.
In the third quarter, Grameenphone invested Tk2.8 billion for network coverage and expansion.
More than 55 per cent subscribers,or 45.5 mn, use the Internet.
Grameenphone will continue to be focused on its growth path to "meet the growing needs of Bangladesh's digitalization", said Yasir Azman, the chief executive officer of Grameenphone.
In three quarters from January to September, the largest mobile operator in the country had revenues of Tk 112.9 billion, with a 5.7 per cent growth year-on-year.
In navigating through the present macroeconomic realities, the telecom operator said, it isalso dealing with challenges of high inflation, rising energy prices and austerity measures taken by the government.