The Bangladesh stock market has made great progress in becoming more welcoming to foreign investors, while incremental changes can help sustain this momentum and ensure Bangladesh remains a prime and prized global investment destination for foreign investors, said Maurits Pot, Founder & CIO of Dawn Global Management.
In an exclusive interview with the FE, Mr Pot talked about the great potential for the Bangladeshi stock market, the unique strengths of Bangladesh's economy underpinned by its unique demographic mix and the country's stable growth trajectory.
Dawn Global, London and Jersey, recently launched the Asian Growth Cubs exchange-traded fund (ETF) listed on the New York Stock Exchange (NYSE) focusing on public equities in five emerging and frontier growth markets in Asia including Bangladesh.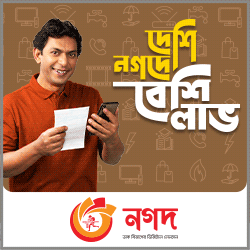 Cubs is the first active thematic ETF dedicated to emerging and frontier growth markets in the world, focused specifically on five large, fast-growing yet historically difficult to access markets spanning over 860m people - Bangladesh, Indonesia, Pakistan, Philippines, and Vietnam.
Dawn Global is pioneering active thematic ETF investing in the next generation of growth markets through public companies that are leaders, enablers, and beneficiaries of growth markets trends – it is encouraging that Bangladesh has been selected as one of only five countries in the first-ever active thematic ETF dedicated to emerging and frontier growth markets.
The only (passive) Bangladesh focused ETF closed in March-2020 and since then there has not been away for foreign investors to easily invest in Bangladesh.
ETFs are generally considered to offer lower expense ratios and broker commissions than buying the stocks individually.
ETFs are also seen as a more tax, cost and liquidity efficient alternative to Mutual Funds and ETFs are amongst the fastest growing asset classes globally, taking increasing shares from Mutual Funds.
Active ETFs, which Dawn Global is dedicated to, is the fastest growing and most innovative part of the global ETF complex.
Dawn offers institutional investors, multifamily offices, retail investors and investment and financial advisors long-term geographic and growth diversification accessed via public markets.
It focuses on growing companies that are leaders, enablers, and beneficiaries of emerging and frontier market growth trends.
Referring to the weaknesses of Bangladesh's stock market, Mr Pot said, historically, potential concerns surrounding the Bangladeshi stock market have included 1) liquidity concerns, 2) potential regulatory concerns, 3) lacking incentives and/or onerous requirements for domestic companies seeking to list locally and 4) a lacklustre pipeline of promising upcoming IPO candidates.
"However, we (Dawn Global) commend the efforts of the government and the Bangladesh Securities and Exchange Commission (BSEC) in addressing these historical concerns and making the stock market a more welcoming and appealing investment destination for foreign investors and listing venue for local companies," he told the FE.
He said the first product of Dawn Global is the Asian Growth Cubs ETF, focused on five countries in South Asia: Bangladesh, Indonesia, Pakistan, Philippines, and Vietnam.
The ETF has an environmental, social, and governance (ESG) lens that excludes specific sectors based on ESG criteria while the current portfolio has a bias to the economy of tomorrow, through exposure to industries such as Healthcare, technology, media, and telecom (TMT), fast-moving consumer goods (FMCG), and financial institutions and fintech.
"Bangladesh is a remarkable long-term economic success story, yet this story is hard to access for foreign investors given the lack of ETF or ADR coverage in Bangladesh. Through the CUBS ETF I am hoping I can make this unique Bangladeshi story more accessible to foreign investors," he says.
Specifically, Dawn is attracted to Bangladesh due to its robust economic policymaking track-record, a unique demographic characterised by a young, educated and digitally-enabled population and a balanced economic mix that derives an increasing share of activity from the services sector, he added.
The World Bank (WB) has recently projected Bangladesh's GDP growth to 5.1 per cent in 2021, amid concerns over the coronavirus pandemic.
Bangladesh's economy is showing nascent signs of recovery backed by a rebound in exports, strong remittance inflows, and the vaccination programme, according to a WB report in April.
However, the Bangladesh government has set the GDP growth target to 7.2 per cent for the FY 2021-22.
Besides, Bangladesh has been in the unique window of demographic dividend as over 65 per cent of the country's population is of working age (15-64 years) which indicates the country's potential in future economic development, according to the United Nations Population Fund (UNFPA).
The Dawn Global CIO said, "We believe Bangladesh could still improve the ease of doing business for foreign investors but are encouraged by the direction of change and improvements."
"The BSEC has already made great progress in reforming the stock market - we would be encouraged if the BSEC is able to attract future dynamic, fast-growing, quality companies to list locally and thereby bolster the domestic capital markets," he added.
Detailing the plan about promoting the Cubs ETF, he said the product and supporting content including the website will promote and draw attention to the untapped growth opportunities in the region, including in Bangladesh.
"We plan to launch future content initiatives that will enhance the profile of Bangladesh specifically, such as through interviews, podcasts and features profiling prominent initiatives, business leaders and policymakers in Bangladesh."
"I believe this innovative Emerging and Frontier ETF launch is an exciting and groundbreaking development for Bangladesh - I am excited to be part of this development and hope this attracts further long-term investment to the country and the Emerging Asia region" he concluded.
Dawn Global is the sponsor of the fund and an appointed representative to KCPL. Foreside Fund Services LLC, a provider of investment management services, is the distributor of Cubs.
Mr Pot has been a public and private equity investment partner at Kingsway Capital, a leading emerging and frontier markets specialist with assets under management of more than US$ 2.0 billion, where he has represented investors on the boards of several emerging market companies.
Maurits will be hosting his first webinar about the Cubs ETF next week on ETF Trends which will be open to all interested parties – more information can be found on www.dawnglobal.com or by contacting [email protected]