Pioneer Insurance's profit dips 12pc after five years
It puts the blame on "agency commission"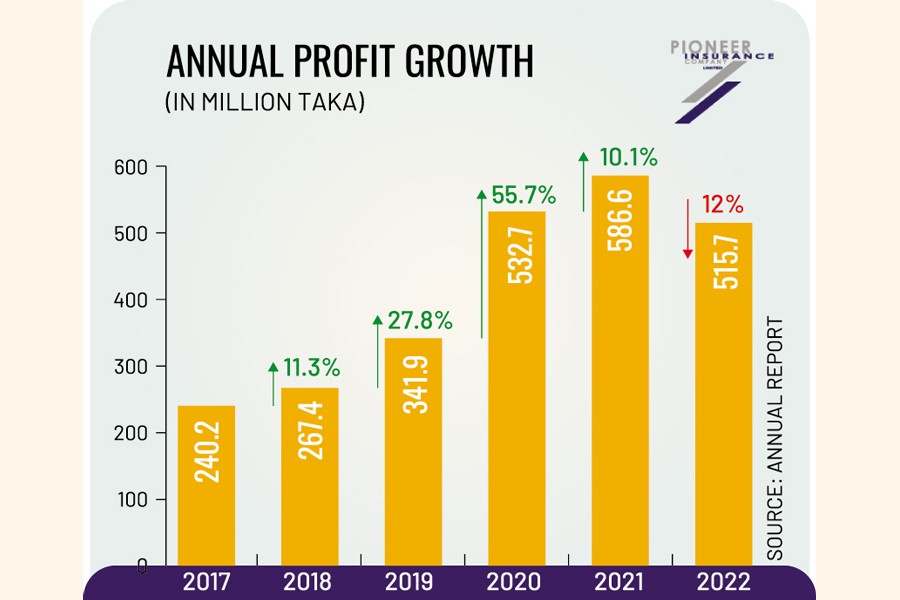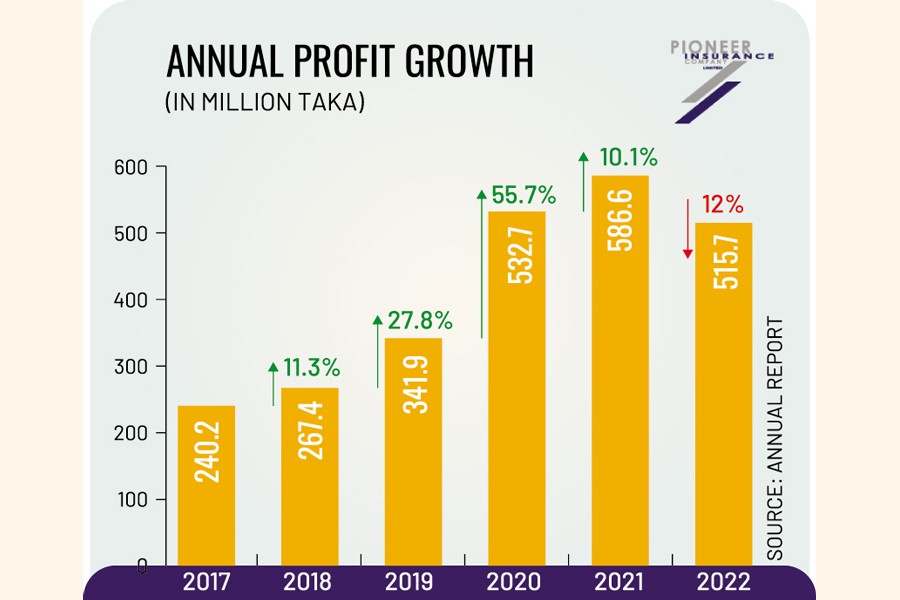 Pioneer Insurance Company strayed from its five-year profit growth in 2022 for the re-introduction of agency commission.
Agency commission is a discount on premium paid by clients of non-life insurers.
Pioneer's profit declined 12.09 per cent year-on-year to Tk 515.6 million for 2022.
Company officials said they did not have to pay agency commission for the nine months through September 2021, which helped boost profit of that year.
The government in October 2021 reintroduced 15 per cent agency commission.
"We had to pay agency commission for the whole year of 2022 and that's why our company's profit declined in the year," said S.M. Mizanur Rahman, company secretary at Pioneer Insurance Company.
Profit would have continued to grow in 2022 had the company not borne the burden of agency commission, he added.
Pioneer Insurance secured 11 per cent profit growth in 2018 and then it accelerated to nearly 28 per cent in 2019 to 56 per cent in 2020 before slowing down to 10 per cent in 2021.
Meanwhile, the company's board of directors has recommended 25 per cent cash and 5 per cent stock dividend for 2022.
It declared bonus shares to increase the paid-up capital to bolster the company's financial status.
The existing paid-up capital is Tk 846.77 million, according to the DSE.
Bonus shares will be distributed out of accumulated profit, not from capital reserve or revaluation reserve or any unrealised gain or out of profit earned prior to the incorporation of the company.
The company issued 25 per cent cash and 10 per cent stock dividend in 2021, 20 per cent cash and 10 per cent stock in 2020, 20 per cent cash in 2019 and 15 per cent cash in 2018.
The earnings per share (EPS) stood at Tk. 6.09 for 2022, decreased from Tk. 6.93 (restated) reported for the previous year.
The net operating cash flow per share (NOCFPS) declined to Tk. 7.57 for the year ended in December 2022 from Tk. 7.86 (restated) for 2021
The stock jumped to Tk 82.40 on January 25 from the floor price of Tk 71.50.
It came down to the floor price on February 14 and rose to Tk 76.90 on March 6.
The share trading of the company closed at the floor price in the last five consecutive sessions on the premier bourse.