Stocks on both the bourses witnessed an upward trend in the early trading on Wednesday as optimistic investors showed their appetite on sector-wise issues.
After having a superb session on Tuesday when the major bourse's benchmark index crossed the 5,100-mark, the Dhaka Stock Exchange (DSE) and the Chittagong Stock Exchange (CSE) opened also higher today amid rising trading activities.
Within the first 30 minutes of trading, DSEX, the key index of the DSE, advanced more than 16 points while the CSE All Share Price Index (CASPI) of the port city's bourse rose 21 points at 10:30am when the report was filed.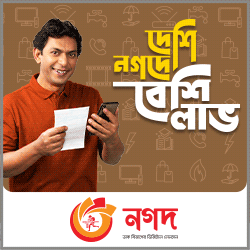 The DSEX went up by 16.81 points or 0.32 per cent to reach 5,117 points at that time.
The DS30 index, comprising blue chips, also gained 3.89 points to reach at 1,765 and the Shariah Index (DSES) rose 1.98 points to reach 1,172 points till then.
Turnover, another important indicator of the market, stood at Tk 2.31 billion when the report was filed at 10:30am which was Tk 1.55 billion at the corresponding time in the previous day.
Market analysts said the optimistic investors continued their buying binge on sector-wise issues, driven by regulatory moves and resumption of economic activities.
Of the issues traded till then, 203 advanced, 62 declined and 66 remained unchanged.
United Power was the most traded stock till filing of this report with shares worth Tk 118 million changing hands, closely followed by Confidence Cement, Nitol Insurance, Asia Insurance and Beximco.
The Chittagong Stock Exchange also saw an upward trend till then with the CASPI gaining 21 points to stand at 14,549, also at 10:30am.
The Selective Categories Index (CSCX) also gained 9.0 points to reach 8,748 till then.
Of the issues traded till then, 72 gained, 31 declined, and 25 issues remained unchanged with Tk 27 million in turnover.