The securities regulator has urged the stakeholders to play a supportive role for bringing back stability in the capital market.
Bangladesh Securities and Exchange Commission (BSEC), the regulator, made the call at a meeting with the stakeholders at the office of the state-run Investment Corporation of Bangladesh (ICB).
BSEC Executive Director Mohammad Saifur Rahman chaired the meeting, attended by representatives from leading merchant banks, brokerage firms and asset management companies.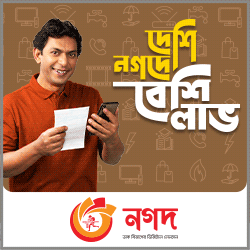 BSEC organised the meeting amid recent sluggish trend in the country's capital market.
DSEX, the broad index of Dhaka Stock Exchange (DSE), suffered a substantial fall of 423 points in 13 straight sessions as on May 20.
After a single-day break, the DSEX declined again on May 22 and 23.
On Thursday, the DSEX closed green with a rise of 68.60 points or 1.33 per cent to close at 5,429 points following the news of the stakeholders' meeting.
BSEC Executive Director Mr Rahman said the stakeholders suggested creating a demand for new products, making mandatory investment of minimum Tk 10 million through dealer accounts and revising the calculation of banks' exposure limit to the market.
"We will place the suggestions before the securities regulator," Rahman told the FE.
Mostaque Ahmed Sadeque, president of DSE Brokers Association, said the stakeholders laid emphasis on increasing the capability of the state-run ICB.
"The stakeholders have also been asked to save the market from aggressive sale pressure," said Kazi Sanaul Hoq, managing director of the ICB.
Representatives from Bangladesh Merchant Bankers Association (BMBA) told the meeting that a letter has already been sent to the central bank through the ministry of finance (MoF) after identifying the problems of the market.
There was, however, no visible action so far in response to the letter, they added.
BMBA President Mohammed Nasir Uddin Chowdhury, among others, was present at the meeting.