Stocks finished marginally for the second day in a row on Sunday as investors showed their buying appetite on sector-wise stocks.
DSEX, the prime index of the Dhaka Stock Exchange (DSE) went up by 27 points or 0.49 per cent to settle at 5,456 points.
The two other indices also edged higher. The DS30 index, comprising blue chips, advanced 8.31 points finish at 2,023 and the DSE Shariah Index (DSES) gained 9.72 points close at 1,269.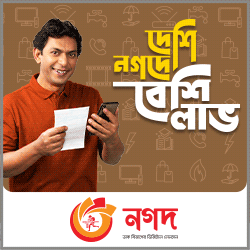 Turnover, however, remained low as the as total turnover on the DSE amounting to Tk 4.46 billion, which was 5.71 per cent lower than the previous day's Tk 4.73 billion.
The gainers took a strong lead over the losers as out of 339 issues traded, 179 closed higher, 110 closed red and 50 issues remained unchanged on the DSE trading floor.
Berger Paints was the day's turnover chart with 378 million shares of Tk 378 million changing hands, closely followed by Intraco Refueling Station, United Power, Western Marine Shipyard and Bangladesh Steel Re-rolling Mills.
Central Pharmaceuticals was the day's best performer, posting a gain of 9.80 per cent while Rupali Bank was the day's worst loser, plunging by 11.53 per cent following its price adjustment after record date.
The Chittagong Stock Exchange (CSE) also finished higher with CSE All Share Price Index – CASPI-advancing 102 points to settle at 16,832 and Selective Categories Index - CSCX –gaining 66 points to finish at 10,186.
Gainers beat losers as 130 issues closed higher, 74 lower and 26 remained unchanged on the CSE.
The port city bourse traded 7.14 million shares and mutual fund units worth more than Tk 130 million in turnover.