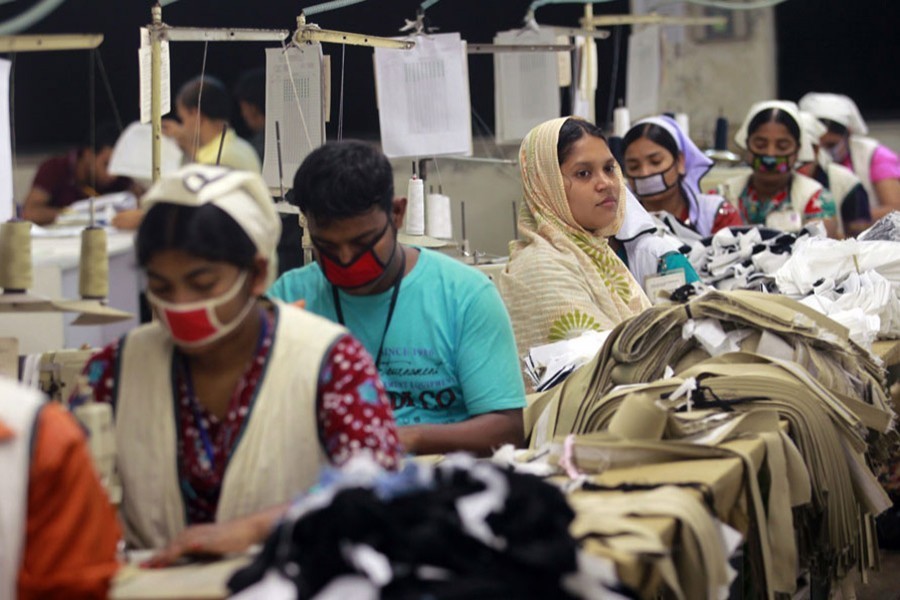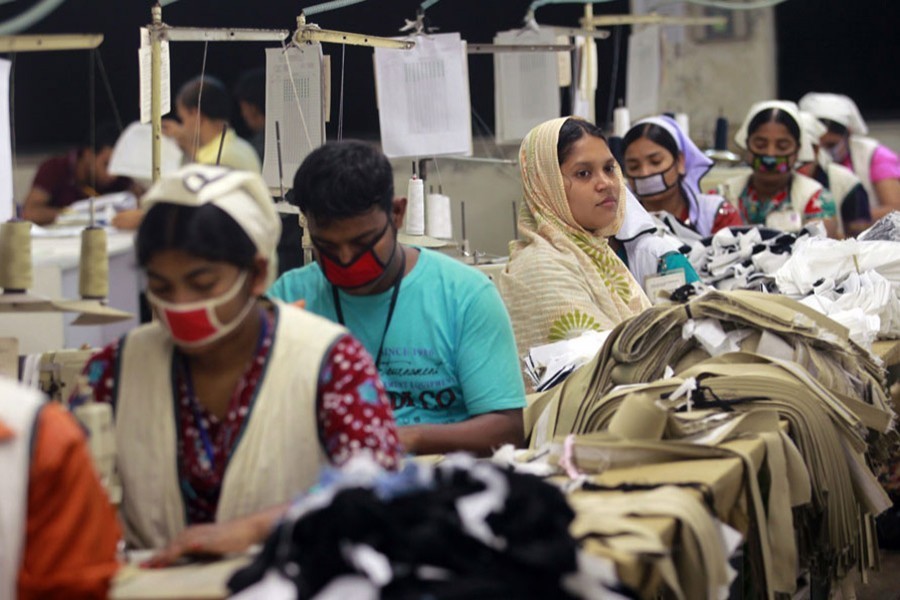 Expressing concern over mass sacking in garment factories amid coronavirus outbreak, labour leaders on Monday demanded immediate reinstatement of all terminated workers with full monthly wages.
Three unions, in a joint statement, alleged that some 10,000 garment workers from Dhaka, Savar, Gazipur, Ashulia, Narayanganj and Chattogram have lost their jobs or have been terminated during the last couple of days.
The Bangladesh Garments and Industrial Workers Federation (BGIWF), Bangladesh Independent Garment Workers Union Federation (BIGUF) and Bangladesh Centre for Workers Solidarity (BCWS) called on factory owners to comply with the government order and stop firing the workers in an unprecedented crisis situation.
The three right groups suggested preparing a list of workers who have been terminated since January to March this year and reinstating all of them with full wage payment and inform workers about this through issuing official notice.
They said workers of the factories that announced lay-off due to Covid-19 pandemic must get full monthly wage payment.
The three right groups also requested the owners not to deprive the workers who lost jobs having less than one year job experience.
Workers of the laid-off factories would not get full or minimum wage while those having less than one year job experience would get no wages and allowances during the lay-off period, the statement said.
Despite the Prime Minister's clear directive in her second speech regarding the factory closure, the majority of the garment owners opted for lay-off while some kept operations from March 26 to 31, they alleged.
Some, however, announced closure in line with extended public holiday.
"To our knowledge, 15 to 20 per cent workers from the laid-off units are new or have less than one year job experience," the rights groups said, adding around 0.6 million workers belong to this category.
The groups demanded their reinstatement with paid-leave and make the wage payment by April 16 in line with government's order.
They expressed the fear that the factories that have yet to make wage payment might deduct the wage and requested the owners not to cut wages considering the gravity of the situation.
The other demands included keeping the garment factories closed until the extended public holidays with paid leave.
The unions also warned of launching global campaign against buyers who cancel, suspend or claim discount on their orders, citing the impact of coronavirus pandemic.
Meanwhile, another platform of 11 trade unions under the umbrella of Garments Sramik Adhikar Andolan made a six-point demand in separate memorandums sent to the BGMEA and the BKMEA (Bangladesh Knitwear Manufacturers and Exporters Association).
The demands include the closure of garment factories for three months or until the corona situation improves and making timely wage payment through mobile accounts to avoid large gathering in front of factory premises.
The coalition demanded garment factories stop terminating any workers and lay off any factories and sought clear directives from the BGMEA and the BKMEA in this connection.
It proposed formation of an emergency and health safety fund.
It called for making a list of corona-affected workers and bearing the expenses of their treatment by owners and proper compensation by the government, factory owners and buyers for the deceased workers.
Other demands included rationing for workers, not to force workers to work in units engaged in protective gear production and make public the names of such factories.
The Bangladesh Garment Manufacturers and Exporters Association (BGMEA) sought to play down the issue of termination.
BGMEA president Dr Rubana Huq asked the unions to share a list of terminated workers with the association so that they can collectively study the issue with caution and detail.
She said though the BGMEA has requested its members not to terminate workers, many factories have "no control over what is happening" in the developed nations and even companies with billion-dollar turnover are opting for furlough.
A total of 917 of its members out of 2,274 that are engaged in direct exports paid March wages until Sunday, according to the BGMEA.
The trade group has around 4,500 registered members, of which some 2,274 obtain utilisation declaration (UD) certificates from it, with the rest doing subcontracting.
Meanwhile, state minister for Labour and Employment Monnujan Sufian on Monday asked all industry owners to pay the March wages to their workers within April 16.
"Legal action will be taken if any owner fails to follow the directive," she said in a statement issued by her ministry.