Bangladesh's agro-products emerged as the second-biggest export earner after apparel during the past four months to October, signalling its potential to thrive further.
Economists and sector-insiders believe it may drive a bigger boom if proper value addition is ensured by proper policy support and incentives.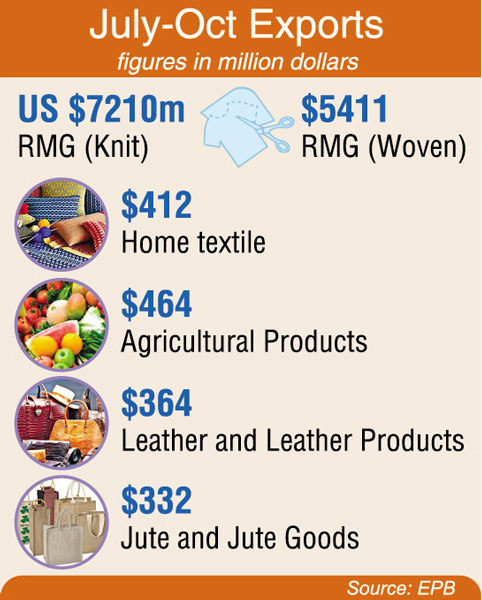 They, however, suggest large-scale farming along with the use of robotics and other modern technologies under government patronage to exploit its full potential.
Sector-insiders noted that agro-supply chain was active during Covid-19 pandemic here-despite worldwide disruptions to productive activity-leading to a sharp growth in the sector vis-à-vis its competitors.
The July-October block-busting export receipts of this fiscal year were recorded at $464 million, up by nearly 30 per cent over the same period a year before.
Usually, jute and jute goods occupy the position after the clothing shipments.
Policy Exchange of Bangladesh chairman Dr Masrur Reaz says the performance indicates that agriculture has huge potential as an export-earning sector.
"If proper support is given to the sector, especially agro-processing, it will always take second position in the chart of export products."
Dr Reaz has recently studied agro-processing as one of the biggest-growth economic drivers.
He says this is the sector where Bangladesh has huge comparative advantage over competing nations, including the neighbouring India.
In fiscal year 2021, agricultural was fourth in export earnings with an overall income worth $1.02 billion followed by garment, jute and home-textile sectors.
Agricultural product segments include tea, fresh produce, tobacco, processed, spices and dry food.
Rising demand for local processed foods and vegetables, the reopening of EU markets as well as a gradual improvement in local phytosanitary infrastructure help make such a leap in shipments, according to insiders.
"A notable hike in shipment of processed and dry foods, improvement in fresh vegetables' export and a rise in income from potato and tobacco have been contributing to such achievement," said Arif Azad Prince, proprietor of Masawa Agro, a leading local fresh vegetable exporter.
He says traders have been showing good performance in fresh vegetable exports, thanks to a positive change in the phytosanitary and certification issues.
"Export of fresh produce and processed items could multiply if the air-freight charge could be minimised to the level of our competitive countries."
However, official figures show processed foods comprised more than 81 per cent or $376 million of the total agro-exports during the period under review.
The trend seems to be continuing in the rest of the months of this fiscal year thanks to the rising demand for the items abroad, said traders.
More than 60 companies are exporting foodstuffs like biscuits, confectionaries, beverages and dry items like puffed rice and chanachur to different South Asian, Middle-Eastern, African, American and European regions.
Pran, Square, Sajeeb, ACI, Partex, Globe, Bombay Sweets, Star Line Food Products, Akij Foods, BD Foods, Arku and Ahmed Foods are the leading exporters.
Pran alone contributes nearly 40 per cent to the total export earnings from the processed food items, according to the Bangladesh Agro-Processors' Association.
Kamruzzaman Kamal, director (marketing) of Pran RFL Group, said his company exported items worth $341 million in FY21 and expects to surpass the figure by a big margin this fiscal.
Pran is now exporting products to 145 countries across the globe, while India is their biggest importer.
"Earlier our key destination in India was their Seven- Sister states. Now, Pran products are getting popular across the country," said Mr Kamal.
He said Pran's Potata biscuit, chips and litchi drinks etc are very popular across India.
Bangladesh Fruits Vegetables and Allied Products Exporters Association president SM Jahangir Hossain says apart from processed foods, vegetable exports have been showing a good performance since last FY.
Vegetable fetched above $118 million in FY'21 with a more than 20-per cent growth over that of FY'20.
Mr Hossain pointed out that export earnings from fresh produce could be increased further with rising shipment of fresh fruits and betel leaf.
The European Union (EU) has withdrawn import ban on betel leaf from Bangladesh but the United Kingdom (UK) was yet to follow suit, he said.
However, the UK is considering lifting the ban fully following progress in Bangladesh's phytosanitary structure as well as in safe food supply.
It was disclosed at a meeting between the agriculture minister Dr Muhammad Abdur Razzaque-led delegation and UK Food Standards Agency in London recently.
However, the government has recently initiated a roadmap to fetch $2.0 billion from agro-products within fiscal year 2023, according to the ministry.
Bangladesh Agricultural Development Corporation has suggested setting up research cells at agriculture- research institutes and seed expansion by importing seeds and making them climate-tolerant to boost production.
The drafted roadmap, recently revealed at an event, identifies major problems in increasing vegetable, potato, fruit and processed agro-product exports.
Department of Agricultural Marketing deputy director Dr Mohammad Raju Ahmed said earnings from the sector would be $1.63 billion this fiscal and $2.0 billion in FY23.
"To boost export," he says, "we need to engage farmers through contract farming and to educate them over the importance of safe and quality products by following good agricultural practices".
The roadmap suggests installation and allocation of separate gates, spaces and scanner machines for agricultural products at airport cargo spaces.
It proposes allocating 20-25-per cent space in all aircraft for compulsory transport of farm products.