Trading of sacrificial animals in the city's makeshift markets was officially launched on Saturday, amid thin presence of customers apparently due to fear of getting infected with coronavirus.
Cattle rearers and seasonal traders were in a despair as they witnessed a sluggish demand so far for the cattles already gathered in the markets.
Yet, they were asking for high prices for the animals with a hope that they would get their desired amount in the last days ahead of Eid-ul-Azha, which will be observed on July 21.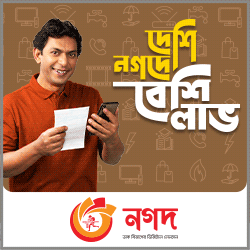 The first-day sales in the city haats began with strictly maintaining the health-safety guidelines amid the pandemic.
All the 19 makeshift markets and two permanent haats in different areas of Dhaka South City Corporation (DSCC) and Dhaka North City Corporation (DNCC) witnessed sufficient supply of cattle of different sizes.
Visiting different markets like Hazaribgh, Shahjahanpur, Golapbagh and Aftabnagar, the FE correspondent found thin presence of buyers.
Most of them were there just to judge the prices while some of them have already bought their desired ones though.
However, cattle rearers and traders were asking for much higher rates for their animals than that of the last year which they attributed to the rising costs of cattle rearing.
Tayeb Ali, manager of Hasil Ghar (tax collection booth) No. 2 of Meradia haat, said that more than 5,430 cows and 4,241 goats have been brought to the market until Saturday evening, which he estimated would be almost similar like that of the last year.
He informed that 30 cows and 12 goats were sold from his booth on the day which is much lesser than that of the first day of last year.
He said the sale might increase from Sunday as many customers will not wait until the last day as the prices increased significantly last year on the day before the Eid.
Alimuddin Mridha, a trader from Sirajganj, said: "There were no buyer on the day. I have brought 16 cows and all those are still remained unsold."
Meanwhile, the buyers who have bought cows at the market are also talking about the possibility of getting higher prices.
Asif Tarafdar, a buyer, said that he bought an ox weighing around 130 kg at Tk 88,000 which is much higher than last year. This year the prices are high compared to the previous year.
Traders were asking a price ranging between Tk 80,000 and Tk 90,000 for a small cow (100-130 kg) on the day which was between Tk 60,000 and Tk 70,000 last year.
Similarly, the price of a medium-sized cow was between Tk 120,000 and Tk 150,000 on the day, up from a range between Tk 1,20,000 and Tk 1,30,00 of last year, according to the cattle traders.
They said that as they had purchased cows at little higher prices this year compared to that of the last year, so they had to demand high prices.
Besides, the increased prices of cattle fodders and animal feed have contributed to the high prices of cows this year.
Talking to many of the potential buyers, it is learnt that they visited the markets to observe the condition.
Mohsinul Karim, who wants to buy an animal, said: "We've no place to keep a cow at home. So, we'll have to buy it on the day before the Eid."
Meanwhile, in the midst of the Covid pandemic, the government has imposed several instructions on the cattle markets.
The government is highly emphasising on online sales as well as on setting up of sacrificial animal stalls with proper compliance.
A central digital cattle haat (www.digitalhat.net) has been opened where 240 online platforms have been added.
The Ministry of Fisheries and Livestock (MoFL) has set a target to sell online 25 per cent of the total sales this year.
According to the MoFL, a total of 4.7 million cows and buffalos and 7.3 million goats and sheep are ready to be sold this season.
Of the animals, more than 20 per cent are likely to be sold in Dhaka.