Experts at a webinar on Wednesday put an emphasis on development of varied crops, fish and cattle through extensive research to boost production aiming to make the country self-sufficient in food production.
They also suggested developing a farmer-friendly marketing chain which is obligatory for agricultural development.
The webinar styled "Agriculture in Bangladesh: Problems and Prospects," was organised by the Financial Express, the country's first business daily.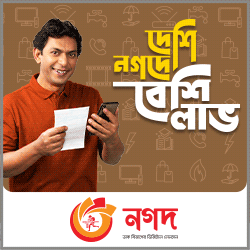 Dr Md Abul Kalam Azad, Director, Bangladesh Institute of Nuclear Agriculture (BINA), Prof Dr Md Shahiduzzaman, Department of Parasitology, Bangladesh Agricultural University (BAU), and Dr M H M Kohinoor, Chief Scientific Officer, Bangladesh Fisheries Research Institute (BFRI), spoke as discussants while Mir Gulam Mustafa moderated the programme.
Dr Md Abul Kalam Azad said his organisation helped ease seasonal famine namely 'Monga' in the northern region by developing a rice variety like BINA-7.
He said the rice variety was introduced in the northern region, especially in its Char areas where people usually faced Monga during Bangla months of Ashwin and Kartik (Mid September to Mid November) amid a food shortage for lack of another crop.
He said BINA recently developed a rice variety, BINA-21, which could be grown in inundated areas.
He said nearly 0.5 million hectares of land remain uncultivated during the Aman season in haor areas amid waterlogging.
He said BINA haf been developing varieties which could grow even in the rising water.
He said such a variety could give 3.5 to 4.0 tonnes of rice per acre where as existing indigenous varieties could give 2.0 tonnes.
He said in this way it would be possible to raise production of rice by 2.0 million tonnes annually.
BINA has developed BINA-8 and BINA-10 rice varieties for the salinity-hit coastal areas where 30 per cent land remains uncultivated during the Rabi season.
He said the organisation was working to develop more salinity-resistant rice.
Dr Azad said "We also need to import" more than 5.0 million tonnes of wheat annually.
"We have developed a saline-resistant wheat variety, namely Bina Gom-1 which could be grown in the coastal region as it can resist 12 d S/m of salinity", he said.
Asked about the onion production, he said the government already targeted self-sufficiency in onion within four years.
He said onion was being grown on 0.2 million hectares. "We produce 2.5 million tonnes while we have a shortage of 1.0 million tonnes."
"We have the prospect for bringing another 0.1 million hectares of land under onion farming which could give us additional 1.0 million tonnes of produce" he said.
"We will have to go for onion farming also in summer (Khariph -1, 2) season."
"Onion farming should also be expanded in Hill areas in Sylhet to raise production further" he said.
Dr Md Shahiduzzaman said: "We have good news that the country has been able to avoid cattle import and meet demand with its own during the sacrificial festival of Eid-ul-Azha."
Thanks to the initiatives taken by both the government and the private sector local entrepreneurs have come forward and started dairy farming on a large scale, he said.
"But we have to raise production further to meet growing demand", he said.
"If we could find out the key obstacle for animal farming and could solve those, production might be raised notably," he said.
He said poor genetic resource is the key problem for raising milk and red meat production in the country.
He said, "We have to cross breed our local cows" with genetically-developed species which give more milk and meat.
He said the second problem for cattle farming was quality food.
He said the country imports quality animal fodder on a large scale which pushes up production costs.
He said small and medium level farmers hardly could make any profits by selling their milk amid higher input costs.
He said there is also a lack of availability of grass amid decline in grazing fields.
Quality feed and grass should be made available for the farmers to get good production.
The country will also have to develop its own vaccines for the animals to minimise costs, he said.
He said proper vaccination for 'foot and mouth disease' should be provided to farmers at affordable costs to reduce animal deaths.
He said timely de-worming is also very important for animals for more milk and meat.
Dr Shahiduzzaman also suggested developing the existing marketing system to give farmers profitable price for their produce.
"Both the government, private sector and NGOs should work jointly to produce quality feed, necessary machinery and medicines to cut production costs," he said.
Answering a question, he said meat of sheep should be popularised through promotion campaigns as the meat has almost same food value like that of goat.
"And even sheep meat is healthier than that of goat meat," he said.
Asked on preservation of local indigenous fish, Dr Kohinoor said out of 260 local inland water fishes, 64 species are now considered as 'endangered'.
Of the endangered fishes, the BFRI had already been able to bring 24 under the reproduction process again, he said.
He said the organisation was trying to domesticate all endangered species.
Golsha, pabda, koi, gutum, magur are now being produced commercially like that of Tilapia and Pangasea.
"We have also succeeded to domesticate local puti, shorputi, bhada, etc recently," he said.
He said the key problem they were facing was lower growth of many local fishes.
He said projects and programmes were going on to bring all endangered species under modern farming to raise production of fish further.
He said local fish production increased to 4.3 million tonnes and the county was almost self sufficient.
He said they were also organising validation camps, exhibitions and trainings for farmer entrepreneurs and giving them certificates.
He said commercial farming of local fish helped ease prices also.
He pointed out that fish like Pabda, koi were being sold at Tk 800-900 a kg earlier. "We can buy them at Tk 200-300 a kg now."