Flour prices may go up in local market
Bangladesh looks to get 'neighbouring country preference' to facilitate imports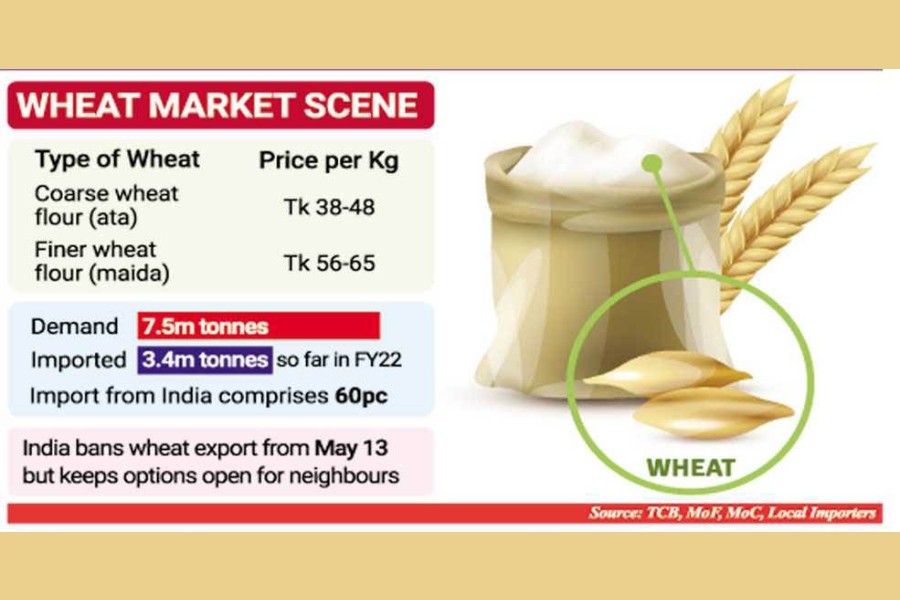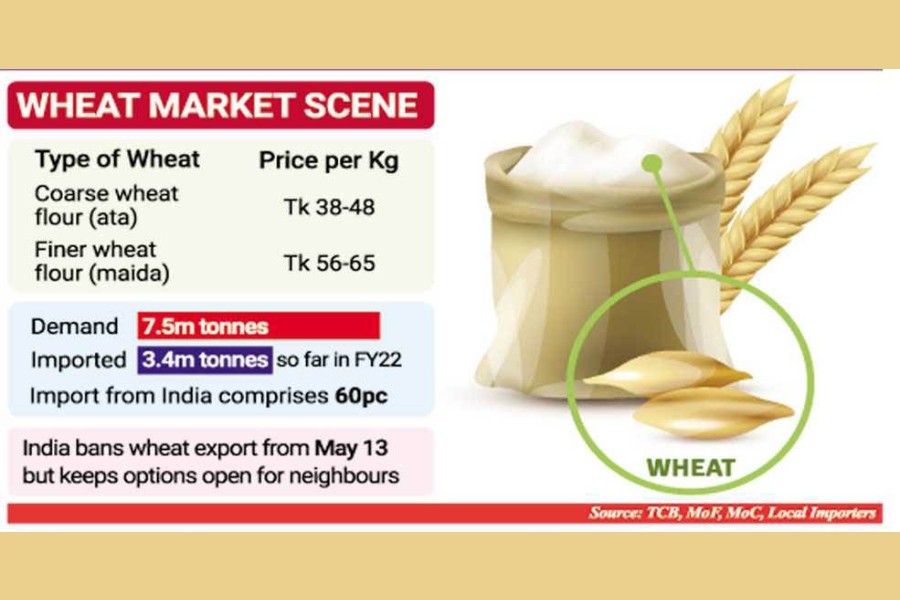 The ban on wheat export from India is likely to make flour pricier in the local market than the existing levels unless the essential commodity can be imported under India's 'neighbouring country preference' policy, importers said.
The prices of both coarse and finer flour (ata and maida) have already shot up to an all-time high in the country as loose maida was selling at a maximum of Tk 60 a kg in the city market on Friday last.
Loose ata is being sold at Tk 38-44 a kg across the country for the last one month.
Branded maida is now selling at a maximum of Tk 65 a kg while branded ata at Tk 48 a kg, according to city groceries.
The wheat flour prices increased by 11-18 per cent in a month while 27-45 per cent in a year, according to the Trading Corporation of Bangladesh (TCB).
The Indian Directorate General of Foreign Trade in a notification issued on Friday imposed a ban for an indefinite period on wheat export to ensure smooth supply of the essential in its domestic market.
It, however, mentioned that the neighbouring countries would get preference as per their respective government's request.
The Bangladeshi private sector importers, however, are concerned about the matter as it was not yet clear whether they would be able to avail the facility or not.
Senior assistant general manager of Meghna Group of Industries Md Taslim Shariar told the FE that India has become the most economic source for wheat as North American and Australian wheat prices surged more than US$500 per tonne.
He said that wheat from India comprised more than 60 per cent of their imports in the last one year. He said the private importers are not clear yet if they could bring wheat from India or not.
Meanwhile, Bangladesh's wheat import declined to a record low of 3.4 million tonnes as on May 11 of the current fiscal year (FY '22) which was more than 4.5 million tonnes in the corresponding period of last FY. The overall import was about 5.4 million tonnes in FY'21, according to the food ministry.
The import declined mainly because of skyrocketing prices in the global market which increased further from February last with the beginning of a war between Russia and Ukraine - the region that supplies more than 30 per cent of the global wheat exports, said local importers.
North American wheat prices increased to above US$ 500 a tonne in the recent months while Eurasian wheat surpassed $380 a tonne amid almost closure of Russian and Ukrainian exports -- $150-$160 a tonne surge in a year globally, said major importers.
Bashundhara Group general manager (head of sales, bulk and retail) Md Redhwanur Rahman said the coarse flour is made from Indian and Eurasian wheat while maida from North American and Australian ones.
He said if the private sector import from India stops, it could badly affect the market after the end of our current stocks.
He however, said his company has a stock that would cover their targeted supply at best for the next four months.
Farm economist and value chain expert Prof Golam Hafeez Kennedy, said wheat is directly related to our food security as people consume more than 7.5 million tonnes and 85 per cent of the demand is met through imports. Local production is only 1.0 million tonnes.
He said supply of the item is most important as its shortage might raise demand for rice notably both by consumers and industry.
So, he added, the government should talk immediately to the Indian authorities on the issue for smooth import of the item from the country both through the government and private channels.
"And the government should also sit with the local private sector and concerned stakeholders for ensuring normal supply of the staple during this volatile global situation," he said.
Asked, additional commerce secretary (import and internal trade) A K M Ali Ahad Khan told the FE that the government expects that the friendly neighbour might allow Bangladesh to import the item without any obstacle.
He said the government will talk to Indian authorities in this regard soon.