Bangladesh's elite trade-body MCCI diagnoses underdeveloped infrastructure, policy inconsistency and corruption as cardinal causes of investment getting stymied, and fears slowdown in economic recovery.
The Metropolitan Chamber of Commerce and Industry, Dhaka (MCCI) in its report on 'Bangladesh's Economy During FY'21' pinpointed the headwinds facing the country's economic advances and called for early remedies.
To allure more local and foreign investors, the trade body suggests, the government ought to address these impediments to attract more foreign direct investment (FDI) in order to ensure the country's economic recovery from the damage done by the ongoing COVID-19 pandemic.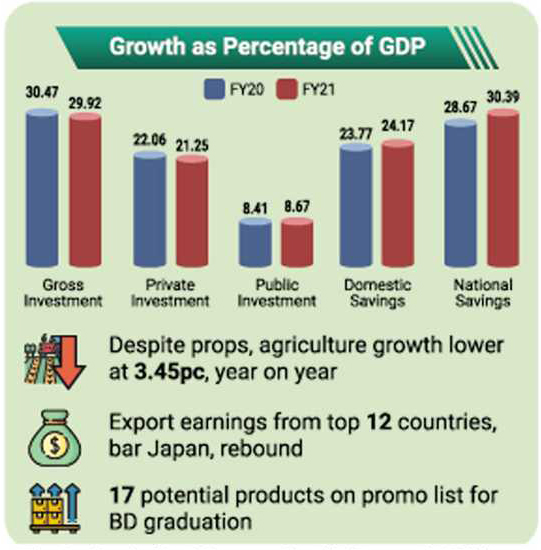 "The low level of private investment, local and foreign, is largely due to the underdeveloped infrastructure and such other impediments as lack of adequate energy and weak transmission infrastructure, lack of consistency in policy and regulatory frameworks, scarcity of industrial land, corruption, and non-transparent and uneven application of rules and regulations," it says.
The chamber also found the rates of growth in both savings and investment very slow. As proportion of GDP, gross investment was recorded at 29.92 per cent in FY21 from 30.47 per cent in FY20.
The share of private investment in GDP recorded at 21.25 per cent in FY21 from 22.06 per cent in FY20, whereas the share of public investment rose to 8.67 per cent of GDP in FY21 from 8.41 per cent in FY20.
Domestic saving as proportion of GDP increased by 0.40 percentage points to 24.17 per cent in FY21 from 23.77 per cent in FY20. The national savings ratio also rose to 30.39 per cent in FY21 from 28.67 per cent in FY20.
About agriculture, the MCCI stated that favorable natural factors and strong government support in terms of timely availability of inputs and finances notwithstanding, the agriculture sector achieved a lower growth of 3.45 per cent in FY21, compared to 4.59 per cent in FY20.
Among its various components, agriculture and forestry sub-sector, which includes crops & horticulture, animal farming, and forestry & related services, recorded a lower growth of 2.65 per cent in FY21, compared to 4.10 per cent growth in the previous fiscal year.
Regarding export performance, it said export earnings from top twelve countries, bar Japan, bounced back, year-on-year, in FY21 after facing a setback for some time due to the COVID-19 pandemic and continued registering positive growth now.
Most of them registered a double-digit growth.
To promote in the post-COVID era and to enhance their exports after Bangladesh graduates from least developed country (LDC) to lower-middle-income status, the government has selected 17 potential products for promotion.
"Efforts need to be given to enhance export by providing as much policy supports as needed and removing all obstacles. Specific action plan should be taken to promote the products in the countries where they have immense potentials to be exported in increased volume," the trade body says.
According to MCCI's observation, the disbursement of foreign aid decreased by US$0.16 billion or 2.20 per cent to US$7.11 billion in FY21 compared to US$7.27 billion in the previous fiscal year (FY20) despite hurdles in execution of the foreign-funded projects amid the COVID-19 pandemic.
The inflow of foreign aid again placed Bangladesh into the seven-billion-dollar club for the second consecutive year, it noted.
In pursuit of the growth objective, the central bank's credit policies and programmes were directed to channeling adequate credit flows for productive purposes, especially to underserved sectors like agriculture, SME, renewable energy and other ecofriendly projects.
At the same time, the Bangladesh Bank policy was to discourage undue expansion or diversion of bank credits to unproductive and wasteful uses in order to bring down the inflationary pressure.
"To bring the economy back in a situation seen previously would be a challenge until the coronavirus disappears permanently," it says on a note of caution.
Public-sector credits, on the other hand, recorded a growth of 18.95 per cent at the end of June 2021, compared with a much higher growth of 53.97 per cent at the end of June 2020.
June's growth was much lower compared with BB's target of 44.40 per cent in June 2021. Within public-sector credits, credit to government (net) recorded a growth of 21.57 per cent, and credit to other public sectors recorded a growth of 2.74 per cent, during the period under review.