Prices of egg, chicken, onion, edible oil and sugar increased further on Saturday intensifying consumers' woes during this toughest time.
Farm egg price hit an all time high at Tk 160 a dozen in many city markets which was Tk 150 a day back and Tk 130 a week ago.
Chicken prices rose by Tk 10 a kg as broiler was retailed at Tk 190-200 a kg , Pakistani, Sonali chicken at Tk 340-360 a kg on the day.
Prices of chicken witnessed 15-30 per cent hike in last one week.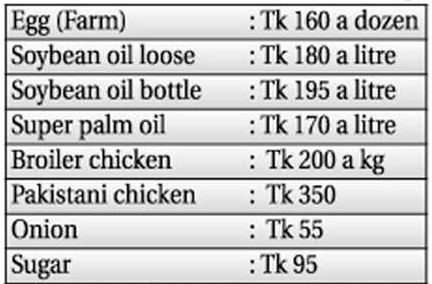 Load shedding have caused decline in egg production by 30 per cent across the country while diesel price hike also caused surge in carrying cost by Tk 2.0 per piece, Bangladesh Egg Producers Association president Md Tahir Ahmed Siddiqi, said.
He said production cost of brown egg has surged to Tk 9.5 per piece amid a fall in total output.
Edible oil was found retailing at much higher rate than that of government fixed prices.
Loose soybean oil price moved up by Tk 15 a litre as sold at Tk 182 on Saturday against fixed rate of Tk 166 while bottled soybean was charged Tk 195-200 by some grocers against Tk 185 fixed price. Super palm oil was retailed at Tk 165-170 a litre against Tk 152 a litre government rate.
Onion prices, which remained almost static for last one month, witnessed Tk 5.0-10 a kg hike as both local and imported Indian varieties were sold at Tk 45-55 a kg on Saturday which traders attributed to the transport fare hike followed by diesel price upward review by the government.
Both loose and branded sugar were retailed at Tk 85-Tk 95 a kg marking Tk 10 a kg hike.