Robi's giant IPO hits market  Tuesday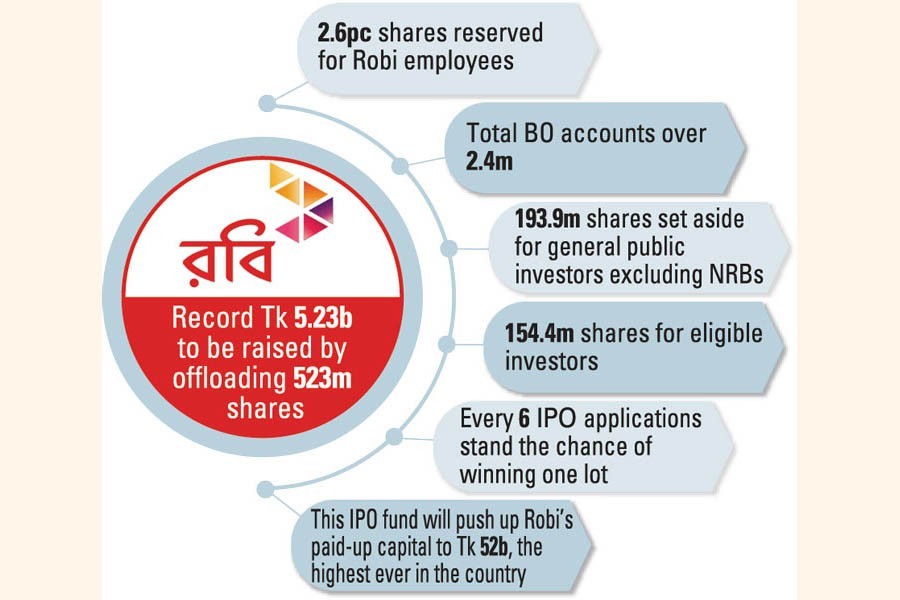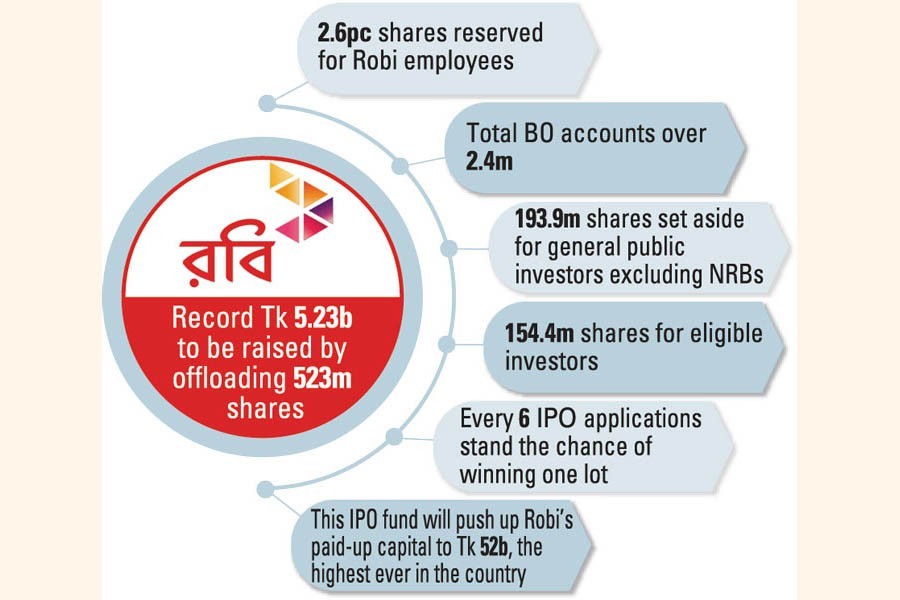 Robi, the country's second-largest mobile phone operator, is set to launch the initial public offering (IPO) tomorrow (Tuesday).
The IPO, being the largest one, will dwarf the one floated by its main market rival---the Grameenphone (GP)--- back in 2009.
The company has offered 523 million shares at a face value of Tk 10, accounting for 10 per cent of the telephony firm's total outstanding stocks.
The IPO will raise Tk 5.23 billion from a wide range of investors including its own employees, topping the Tk 4.86 billion raised by the GP, the country's biggest mobile phone service provider.
Some 2.6 per cent shares equivalent to Tk 1.36 billion has been reserved for Robi employees with a two-year-lock-in period.
General investors, excluding the NRBs quota, can buy roughly 193.9 million shares or nearly 388,000 lots of 500 each.
The chance of winning the draw is expected to be easy, according to people who have handled such issues.
If all BO account holders of 2.4 million apply for the Robi IPO, one in every six applicants has the chance of winning a lot.
But, they said, around 50 per cent of total BO holders usually apply for the IPOs. Under such a situation, each three application has a chance of winning one lot of Robi shares.
The eligible investors --mutual funds, financial institutions, provident funds and so on--will get 154.4 million shares or 40 per cent on top of the company employees.
The IPO proceeds will raise the company's paid-up to Tk 52 billion, four times GP's.
This huge paid-up is higher than many banks in Bangladesh, even Sonali Bank, the country's biggest state-owned commercial bank.
"This is the biggest IPO in Bangladesh's history," said Md. Moniruzzaman, CEO at the IDLC Investment, the issue manager of Robi.
The big-sized IPOs in Bangladesh so far are: GP's Tk 4.86 billion, MJL worth Tk 4.6 billion, ACME Lab at Tk 4.09 billion and MI Cement at Tk 3.13 billion.
Mr Moniruzzaman said this will help increase the depth of the market boosting the confidence of investors.
Robi stock is believed to be the cheapest considering its financials with the rival phone operators, according to data compiled by the FE.
Higher price-earnings mean expensive stock and such price earnings multiple belonging to Robi is Tk. 0.4. i.e., it is cheaper than its rival, while the same of GP had Tk 13.03 at the time of listing.
The issue manager said that even a new company during inception distributes shares among sponsors at Tk 10 apiece.
"So, it's a giant offer by Robi to the investors as this 20-plus year company is offering the original face value."
Analysts and fund managers, however, expressed mixed reactions over the IPO.
Some hailed it as a good move by the regulator and exchanges to deepen the market while others feared this high-volume IPO may upend the market.
Shaheeen Iqbal, president of the CFA Bangladesh Society, a Bangladesh chapter of the US-based CFA Institute, said the exchanges will get new blood after a long time through the listing of the biggest IPO.
He said regulators and exchanges should encourage such big companies to raise funds from the market.
"This will give investors an opportunity to invest in good scrip at the same time foreign investors would find more investible stocks in this market," Mr Iqbal told the FE.
But fund managers working at different merchant banks told the FE that they are worried about the size of the IPO.
"Our median daily turnover over the past two years is Tk. 5.0 billion, so it will create a pressure on the market if there are no fresh investors," said a manager.
They said the Telenor's unit had good earnings per share while Robi's EPS, at Tk. 0.04, is much lower than GP's Tk 5.37 back in 2009.
"The tradition here is that debut trading remains halted but it will require around Tk. 7.0 billion to halt the trading of the stock," said an analyst serving with a merchant bank.
He said many eligible investors are in pressure as they will have to invest around Tk 30 million on an average for the IPO.
Another analyst, who wished not to be named, said Robi is a visible service and it has a bright prospect.
Market players said the exchanges will not face any problems following the debut of the IPO.
"We don't see any challenges at all," said Rakibur Rahman, a director at the DSE.
He said this is a highly attractive IPO and many will hold the shares considering its long-term prospect.
He said digitalisation means mobile technology and it is reflected through mobile phone services.
"There are huge new investors, who have opened BO accounts, to apply for the Robi IPO," said Mr Rahman, a former president of the DSE.
More than 100,000 new BO accounts have been opened in recent weeks, according to the CDBL.
The Bangladesh Securities and Exchange Commission said the main objective of encouraging the Robi IPO was to list an MNC. There have been no listings of MNCs over the past decade.
The last MNC to be listed in 2009 was Mumbai-based Marico Bangladesh, whose market prices are now over Tk 2,100.
Rezaul Karim, spokesperson for the BSEC, said this will boost the market capitalisation while lifting the confidence of investors.
Bangladesh market-cap is now around US$38 billion, larger than Sri Lanka and Myanmar's. Large market capitalisation remains stable as some big investors or manipulations cannot play foul.
Mr Karim also said foreign investors will cheer as they want to buy a large number of shares.
The Robi Axiata Limited, a joint venture of Axiata Group Berhad of Malaysia and Bharti Airtel of India, wants to be a leading digital platform of Bangladesh.
The company said the IPO proceeds will help obtain more than 1,700 BTSs (base transceiver stations).
"We look for exciting days ahead full of innovative digital services to create new experiences in the lives of our customers," said Shahed Alam, chief corporate and regulatory officer, at Robi.
Robi said they have demanded two issues-fixing corporate rate at 35 per cent instead of 45 per cent and slashing minimum turnover tax rate by 1.25 percentage points to 0.75 per cent, down.
The Axiata of Malaysia, listed in Malaysia, holds 68.69 per cent shares of the company while Indian Bharti 31.31 per cent.
Robi, which now has over 30 per cent market shares, was incorporated as a mobile phone operator in 1995 and it began commercial operation in 1997. Its annual turnover is now nearly US$1.0 billion.