A CLOSE LOOK
Playground gets the better of police station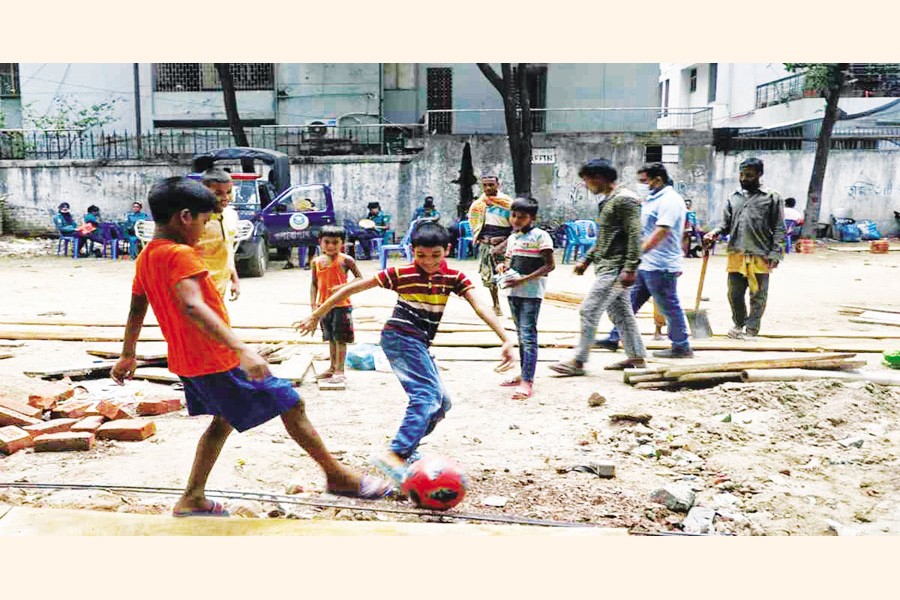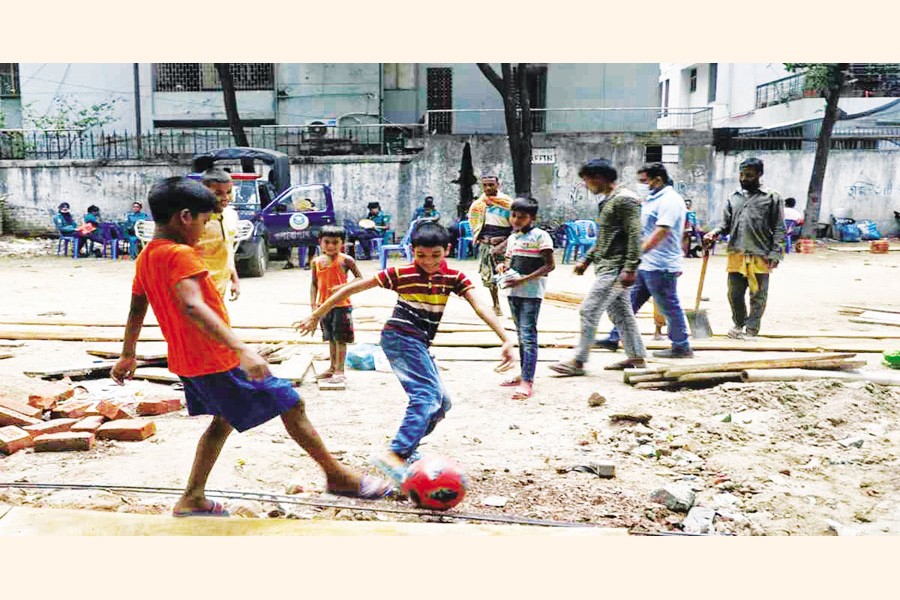 At last it has been once again Prime Minister Sheikh Hasina who had to use her good offices for securing children's right to play at Tentultala playground in the city's Kalabagan area. Syeda Ratna and her son Priangsu's 13-hour ordeal in thana hajat confinement, albeit suffered due to highhanded exercise of power by the police, has won the cause in favour of the public. The popular demand has received the prime minister's approval. There will be no police station on the playground.
Indeed, this is why the daughter of Bangabandhu is miles ahead of other politicians who fail to feel the people's pulse. That the only small playground for a community of 0.30 million is far too inadequate is not a complex issue for anyone to understand but the power wielders are often blind to see to it. The confrontation between the police and the public could be avoided long ago when the local people made their resentment to the plan of constructing a police station there known. At one point people of the community started an organised protest against the police station.
The local community's demand failed to draw attention of people in power but the arrest of mother and son did not escape the notice of rights organisations and environmental groups. They expressed their solidarity with the protest against the construction of a police station on the playground. A local cause soon became almost a national cause. The implication of taking over a playground by the law enforcement agency for construction of a police station sends an alarming message.
In a country where some influential quarters are after grabbing public property, there are instances of illegal occupation of school playgrounds by powerful people in a number of cases. Last month the playground of a government primary school located in a village of Kalabari union under Kotalipara, Gopalganj was illegally occupied by a man on the pretext that the land belonged to him. He claimed ownership of the field after four decades of the land's use as the school campus.
It is unbelievable but true that until 2014, as an English contemporary reported, 54 out of 295 government primary schools were partially occupied by individuals, different government agencies for different purposes in this city. In some cases, the Water and Sewerage Authority occupied school playground to set up pump houses, in other cases members of the Ansar turned a few class rooms of a school into their living quarters, in one case an influential person grabbed a portion of a school's playground to construct a multistoried building, in two other cases, Biharis (stranded Pakistanis) occupied portions of school playground to make their shelters.
Similar was the case with slum dwellers erecting living accommodations on primary school playground. Even high schools in two instances have either occupied or refused to vacate primary school buildings long after the temporary arrangement was supposed to be over.
There were no popular protests to protect the school playgrounds or campus. All because, children's rights to play games and sports do not receive the recognition they should. This is a gross mistake both parents, school authorities and policymakers commit together. Young learners ought to participate in sports and games in order to grow a sound mind in a sound body. If children are not allowed to run and play outdoor games, they are likely to be hooked to smartphones and computers to such an extent where the temptation is to develop addiction to such gadgets. Already this has become a serious problem for many of the young generation.
In case of Tentultala public protest, the community has tried to defend the rights of the young ones in particular. Their campaign has won the day not only for them but will also show the way for others to take to the street for a genuine cause and defend public interests.
What the law enforcers fail to appreciate, as they usually do, is the popular public sentiment. In a densely inhabited city, breathing spaces are fast vanishing. Now playgrounds of schools and those located in different communities should be recovered as early as possible for those to be returned to the young ones who need to enjoy their childhood as much as possible in an unliveable city.