It is clear that because of its contribution to exports-- overwhelming to say the least, as well as to employment, the readymade garment sector comes ahead of other manufacturing and business sectors in the government's priority list. There are indeed reasons, and despite the stimulus and incentives dished out to this sector from time to time, the government cannot be blamed for being unreasonably biased, though at times the incentives and facilities may seem to be a bit too generous. However, what appears to be rather incongruous is that many of the businesses and manufacturing industries do not receive similar facilitation, and as experts have often said, for the sake of freeing the country from excessive reliance on a single sector, it is imperative to provide required boosts to other potential sectors so that they can sufficiently expand their productivity, product range and marketing. It is true, the government in its policies, now and then, declares some industries as thrust sectors pledging facilitations and incentives, but in most cases these remain mere promises with little coming their way as sustainable support.
Similar observation has come up in the recent statement of the World Bank Group. The WBG has stated in the form of recommendation that the government should streamline the process for non-readymade garment sectors along with extending the facilities which are only provided to the RMG sector so that the non-RMG sectors' export earnings can reach at least $10 billion in the medium term. The recommendation was made at an online event titled 'Unleashing the Private Sector to Sustain Development Success' on the launch of World Bank Group's Bangladesh Private Sector Diagnostic (CPSD) report prepared by the International Finance Corporation and the WB.
The report said Bangladesh needed to embark on a new round of reforms to strengthen and modernise the private sector in a bid to unleash the country's potential to drive diversified, export-led growth and create jobs. While it highlighted that a modernised RMG sector could surpass the $50 billion export target, the report emphasising the need for required boost mentioned some sectors like footwear, leather, electrical goods, among others, which have high growth potential and deserve similar treatment available to RMG, such as bonded warehouses and access to innovative trade finance. Referring to the plastic industry, the report said, 'A more sophisticated plastic sector could create backward links to RMG and respond to critical needs for plastic recycling and circularity.' It also stressed the need for strengthening the pharmaceutical industry through developing backward linkages with active pharmaceutical ingredients and production of biosimilars in order to scale up exports.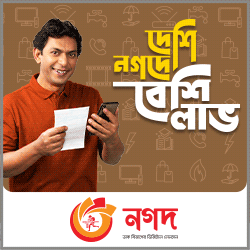 While producing for export in large volumes opens up avenues for overseas markets, the crucial need to meet domestic requirements must not be underestimated in reducing pressure on import. It is here that some notable manufacturing enterprises need to be developed as a thrust sector in a planned manner. The aforementioned sectors have already demonstrated their strength in both domestic and export markets, still it is generally believed that a lot remains to be done to expand and diversify product ranges and ensure quality assurance in keeping with the standard requirements of importing countries. As for the pharmaceutical sector, it has done wonders in reaching near self-sufficiency, and has also made good strides in exports. Although presently exports take place mostly to non-major destinations in small volumes, the industry has high potential to reach out to major pharma importing countries including the EU and USA. For this, the industry needs facilitation for producing active pharmaceutical ingredients (API). For sometime now, experts and stakeholders have been raising the issue, and the government initially responded positively to set up API park at Gazaria, Munshiganj. But according to reports, the project has run into a snag. The project was designed to provide facilities to 42 pharmaceutical industries in the 200-acre park, which was expected to make the country's pharmaceutical sector highly efficient, capable of generating employment opportunities for 25,000 people, according to sources. Little is known about the progress of work lately.
The story of the leather park at Savar is not different. Although relocation of tanneries has taken place after many setbacks, it is yet to function properly due to glitches relating to the central effluent treatment plant (CETP). As a result overseas buyers are reportedly staying away as the infrastructure in the park is yet to comply with the mandatory norms followed by major leather importing countries.
Another potential sector mentioned in the WB Group's report is plastic. Industry insiders are of the opinion that setting up of an exclusive plastic hub is the only option to allow this highly promising sector to thrive. This would provide ample opportunity for the factories to operate hazard-free and attract lucrative overseas investment as well. Concerned quarters feel that a plastic hub with modern recycling plant, waste management facility, properly trained workers and necessary infrastructure will be able to manufacture products at competitive prices for exports even after a reasonable raise in the present wage structure.
There are other areas and sub-sectors such as light engineering, jute goods, agro processing, processed food, sea food, bicycle industry, ship building that need a more focused and comprehensive policy to grow up to their potential. Stray initiatives in terms of fiscal benefits have proved to be of little use as each of these sectors needs a well planned roadmap.
True, the on-going pandemic has stalled many development activities requiring substantial funds. However, given that these are all functioning sectors, the government's move would not require to start from the scratch. Plans should be firmed up in consultation with the stakeholders. In this regard, it may be mentioned that the findings of aforementioned WBG report will be used to craft IFC's strategic inputs for the WB's new Country Partnership Framework with the government of Bangladesh. It is expected that while engaging in joint programmes, the government would highlight the critical areas in need of support to unlock the potential of these and other prospective sectors.