Nature doesn't see the lines of political boundaries between countries despite all attempts by modern states to purposefully unite or in other words divide people.
Constrained by maps the people can't, however, remain always fully updated whether certain activities in their neighbouring country are posing an imminent environmental threat to them, through wind and flow of river waters, for instance.
An issue that has been widely covered in India and also by international media outlets is yet to be seriously discussed in Bangladesh, which though may find it at the receiving end in case of an escalating crisis of river pollution. Floating corpses on the vast areas of Ganges banks between Indian states of Bihar and Uttar Pradesh have created a domestic environmental concern.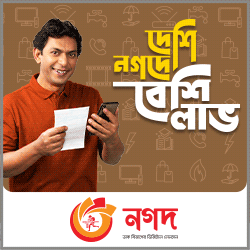 "Dozens of bodies believed to be Covid-19 victims have washed up on the banks of the Ganges River in northern India," said an AFP report published by The Guardian on May 10.
Two days later, NDTV reported that more than 100 bodies had surfaced in the river between Kanpur and Unnao districts in India's northern Uttar Pradesh state.
On May 15, West Bengal's Bangla newspaper Anandabazar headlined 'Thousands of dead bodies on the Ganges banks, kites and vultures crowding there; scenes of horror across Uttar Pradesh'. The compiled report mentioned that more than 2,000 bodies were buried on river banks in 27 districts of the Indian state.
Innumerable bodies of the victims of the Covid-19 had been dumped in the river and maybe in other rivers as well. This practice, according to environmentalists, might further spread infections of the coronavirus polluting waters of rivers.
No pollution is good for living beings but the dumping of bodies of people who died of Covid-19 may deal a double blow to users of and the species living in the river water.
We don't know possible spillover effects of such acts, in case fishes consume remains of the bodies of coronavirus victims perished in the water; neither are we aware of the consequences of flow of polluted waters into the downstream country.
Bangladesh, as a lower riparian country, cannot avoid being concerned about the risks associated with pollution of waters of rivers flowing from the side of the border! There is no scope that Bangladeshis could live with self-assurance of safety from the risks of cross-border water pollution. Already, India's people living on the Ganges basin have reportedly blamed the state and federal government for the floating bodies.
So, Dhaka may seek New Delhi's cooperation in securing data of dumping dead bodies in and on the banks of rivers in the upstream and the level of pollution of the Ganges and other international rivers during this pandemic.
As part of Bangladesh's effort to prevent the deadly Indian variant of coronavirus, authorities here also need to utilise health experts, activists, volunteers and field-level public servants to test river waters at border points.
Also domestically, it's essential to keep all water bodies free from possible Covid-19 pollutants. A renewed campaign is required to ensure proper disposal of medical and other wastes that may contain the virus.
A gentleman, who served the government's inland water transport authority for a long period of time has recalled horrifying memories of the 1970 cyclone that claimed half a million lives in the country's coastal belt. "I was a fish-lover. However in those days, I could not eat fishes as they were inedible because of consuming dead human corpse," M Fasihur Rahman wrote in a letter to The Financial Express.
In reference to the reports of floating corpses in India, he wondered what would happen should the 'contaminated river waters flow into Bangladesh'. Time alone will give the final answer even if we don't react to the situation.