Supporters of Argentina and Brazil teams from the eastern district of Brahmanbaria clashed over the result of the Copa America final match leading to several persons getting injured.
Copa America is a purely South American football event. Why should football fans of Bangladesh go overboard about what is happening about the sport on the other side of the planet? Though strange, yet it is a fact of life here. Incidents of such face-offs have been reported both before and after the Copa America final event.
True, the youths of this country are great fans of Brazilian and Argentinian football teams. But usually, their excitements over the game are centred around the FIFA World Cup that takes place every four years. During the 2018's World Cup, the nation witnessed the madness of our youths over the teams they supported.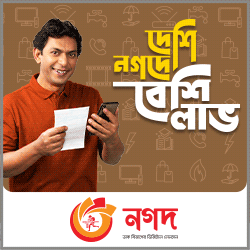 Most of them hoisted flags of Brazil and Argentina on the rooftops of their houses. There were also supporters of European teams including Germany, England, France and Italy. But they were no match for Argentina and Brazil. Flags of Brazil and Argentina, jerseys like the ones worn by the players of these two teams and other trinkets related to the game were on sale at the street-corner stores, at the shopping malls as well as hawked by peddlers.
Such excitement of Bangladeshi youths over World Cup football is understandable. But their excitement about a regional football, in the present case South American, is something new. Copa America is undoubtedly a matter of great interest for dedicated followers of the game including football critics. Perhaps, it was not so among the ordinary football fans in the past. But thanks to the internet and its spin-off, the social media, Copa America has now caught the fancy of our youths even from the remotest part of the country. But one thing should be clear at this point. To be frank, our youths' interest in South American football, if any, is centred around Argentina and Brazil. In fact, they are least bothered about what other South American teams are doing unless those are linked to Brazil or Argentina.
In fact, the mystery, if any, lies in two names, two football legends-Pele of Brazil and Maradona of Argentina. Brazil is more popular among the older generation who were once the fans of Pele. And the new generation loves Diego Maradona after 1986's World Cup. Argentina won the cup that year by defeating Germany 3-2 and the credit for the win goes to Maradona. And from that instant Maradona won the hearts of football lovers across the globe. And Bangladeshi football fans are no exception.
The craze among our youths centring such international football icons is nothing strange. This is how youths are and have been at all times and places. They look for heroes to worship.
Our youths would not have to worship Pele, Maradona, Ronaldo or Messi if they had their own football heroes. And they would love, even worship them, if they were not as tall as Pele or Maradona. The youths of this country would then raise our own national flags, wear the jerseys of our own footballers during international football events.
A pipedream? Not in the least. For football in Bangladesh is an extremely popular game and a passion for people from all walks of life. And Bangalees had their football heroes since the colonial era when Pele or Maradona were not even born. Great footballer of all time, Syed Abdus Samad, also called Football Jadukar (magician), Mohammed Selim, Subimal (Chuni) Goswami are some among a long list of football icons that we had in the past. Bangladesh had also its football legends like MonemMunna, Sabbir, Aslam, Kaiser Hamid, to name but a few. The matches between Mohammedan and Abahani sporting clubs were once the obsession of Bangladeshi youths. But it is now a thing of the past.
The authorities should now think of giving football, the game of the masses, a chance.