From any family meetup, religious occasion, cultural programme, to the arrival of a new member in the family or any good news, there is one constant in traditional Bengali culture -- sweetmeat. There are numerous shops, bakeries and sweetmeat makers in every part of the country. However, some sweets are produced in some specific districts which are considered traditions of those areas. Khondol Sweet is one such tradition of the Feni district for its outstanding taste
Feni is historically affluent for its traditional foods and heritages like many age-old palaces. This district is also famous for different types of unique and delicious foods and Khondol Sweet is one of them which is around 50 years old.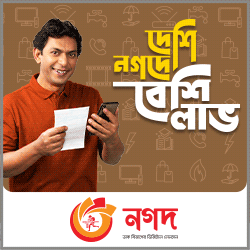 After the independence, Late Kabir Ahammad Patwary established a shop named 'Khondoler Patwary Misti Mela' in Parshuram sub-district under Feni district, precisely by the Khondol High School at Boxmahmud Union. Kabir Ahammad simply named his product after the area's name and brought in Zogol Chandra Das from Cumilla as the cook, who, as per local gossips, could produce 62 types of sweets. Due to its unique taste and flavour, Khondol gained popularity soon.
Khondol's preparation is simple like other conventional sweetmeats. However, due to the fame of this sweet, people come in numbers to taste it, as well as see the making process. The most unique thing about this sweet is that it can be served both hot and cold. Hundreds of families in the Feni district produce this sweet in the present day. Yet, one has to go to the age-old sweet house of 'Khondoler Patwary Misti Mela' for the original taste.
After the death of Kabir Ahammad, his two sons- Belal Hossain and Amir Hossain took the mantle of the business. Although the cook Zogol Chandra Das died a few years ago, the Patwary brothers have upheld the original taste.
"This sweet, which was introduced by my father about 50 years ago, has now spread beyond Feni district to other districts. Now buyers far from the district come to eat this sweet," said the happy director of Khondoler Patwary Misti Mela Amir Hossain. He is thankful to his father for teaching him the recipe of Khondol.
This scribe talked to a local guy Mohiuddin Ahmed, who is a BSS student at Sonagazi Government College, Feni, regarding its taste. Mohiuddin assured that this sweet has a unique taste although its preparation seems quite ordinary. He hopes that someone will take initiative or invest to spread the sweet all over Feni and other districts so that people can find an authentic taste within their reach.
Khondol's popularity can be read through the business numbers. Mr Amir Hossain gave an estimation that they sell almost 70/80 kg sweets a day, a number which exceeds the 100 kg mark during the eid or other religious festivals. Also for the marriage ceremony or other family occasions, they receive orders in bulk amounts.
This age-old Khondol sweet might survive in Feni for a long time or might once become irrelevant. However, this might sustain with all its taste and uniqueness provided that it spreads all over the country.
The writer is a student of Banking and Insurance at the University of Chittagong