Abdur Rahim is a 60-year-old rickshaw puller in the port city Chattogram. He is the father of 4 children - 2 daughters and 2 sons.
One of his daughters is due to be married soon. He shares how he has been dealing with the double blow of the record hike in edible oil prices and a fresh surge in prices of other daily essentials.
"The last two years have been difficult anyway due to the pandemic. Now, the almost 100 per cent rise in the price of oil has exacerbated our situation," he says as he wipes away beads of sweat from his grey-specked hair caused by the unforgiving sun right above.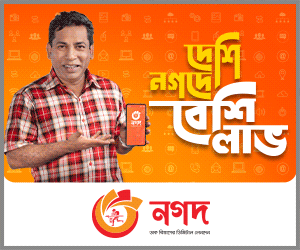 In May, the average price of bottled edible oil was increased to Tk 198 per litre from Tk 160 per litre in April following the price hike of cooking oil in international markets.
"I have been taking additional rides throughout the day to be able to put food on my children's plates. It is challenging during these days filled with scorching heat coupled with bouts of rain - my health limits me to an extent as I am getting older."
He shares how he has tried to curtail consumption significantly.
"Some days I try to make do with just potatoes, rice, and lentils as a good portion of my monthly budget for food now goes into oil, which doesn't leave enough spare funds for me to be able to afford half a kilogram of chicken or fish," he adds.
His wife works as a house help in a household in the port city's Nasirabad area and earns Tk 6000 per month.
"My daughter's marriage is also around the corner. If it wasn't for my wife's contribution, I would not be able to manage the expenses of the marriage. Only God knows what awaits people like us. We don't see any respite," he said before strolling away with his rickshaw.
Shofi Ahmed (pseudonym), who works at a private firm in Chattogram, buys commodities every month from the same shop in Khatungonj.
"My monthly budget was Tk 1,500 - 1,700. With that, I could buy oil, flour, spices, tissue, tea leaves, sugar, and powdered milk. Now, most of the money goes into oil and milk.
Although he has curtailed consumption, he still has to spend Tk 300 extra.
He gets lucky on the days when he spots TCB's truck on time on his way home since that allows him to purchase oil and other commodities at a subsidised price.
"I have to stand in line for almost half an hour in this heat but it is what it is; every penny counts," he adds.
He has one daughter and one son. The eldest daughter goes to a private university in Dhaka.
"She does tuition after class hours, the proceeds from which she diverts towards part of her monthly living expenses. I worry her health and academic performance may suffer," he said adding that the cost of meals at the hostel she lives in has also gone up considerably. Her overall living expenses jumped by Tk 1200 per month.
"She worries it's a financial pressure on me to pay for her monthly living expenses."
"My wife has also been contributing from her savings to finance our son's education amidst this situation," added Mr Shofi.
"Baba (father) continues to send me a sum for my monthly living expenses regardless. I know the rising commodity prices have not been easy on him with him being the sole breadwinner in the family," said his daughter Rehnuma (pseudonym) while talking to this scribe.
"He has never let us feel the financial hardships caused by these circumstances. Growing up, from time to time, I would hear my parents' discussing monthly expense-related issues and paying for our educational expenses. I did not worry as I thought Baba had a magic wand to solve these problems; at the end of the month, somehow he just made ends meet. My school fees would be paid on time."
Now that I have stepped into adulthood, I realise it is not as rosy. I now see the cost at which I remained stress-free as a child – my parents making sacrifices here and there," remarked Rehnuma on her realisation regarding how hard fathers work to keep things going.
Rehnuma saves a portion of the money her father sends her every month. "When I go back home for my semester break, I want to give him a surprise with the savings," she says wistfully!
Today is father's day, observed around the world to celebrate fatherhood, to celebrate every father's courage, struggle and sacrifice in order to bring happiness to their family.
Cheers to every father out there, cheers to their mental strength and resilience, and cheers to the silent warriors – every child's superman!
The writer is a senior year student majoring in Economics at the Asian University for Women. She can be reached at [email protected]