In this scorching summer, everyone wishes to just sit in a tub full of icy cold water or turn on the air conditioner, or have ice cream instead. Unfortunately, these are physically and financially impossible for most people. 'Lungi' came as a super-suit to rescue the men from these unfortunate inabilities. The attire provided comfort and protection from monstrous summer day after day by being a cheaply-attained-comforting piece.
Lungi (/luŋɡi/), a traditional lower garment, offers comfort to men. People, however, have been wearing this outfit even before the 2013's 'Lungi Dance' craze created thanks to Shahrukh Khan. This skirt-like outfit originated in the Indian subcontinent. To wear this piece of clothing all one has to do is wrap it around the waist and tie the knot minus the commitment. Occasionally, some people tuck the ends of lungi at the waist to shorten it. Lungis are normally woven with cotton to use it for casual wear. People sometimes use this tube-shaped clothing for ceremonial purposes. However, those lungis are woven with silk to give a more lavish feel.
Senior Meteorologist Hafizur Rahman stated in an interview with a local online news portal that Bangladesh witnessed an excessive temperature in the April of 2021. This record is said to be the highest in seven years. People were sweating as if they were sitting in a sauna even under a fan running at full speed. Khayrul Islam, a 15-year-old student of B.N.S High School wears lungi from time to time to find relief in this humid weather. According to his words, the structure of the outfit provides a lot of ventilation which is a unique quality. He has been using lungi as his comfort outfit since he was 10-year-old. Even though he had trouble tying it properly at first, but now he claims he's an expert at this!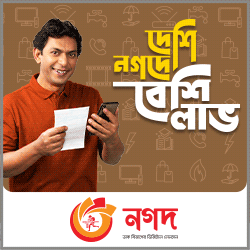 Aziz Khan, a retired banker reminisces the way his father used to fasten the knot on lungi. He stated that there were various types of knots to secure a lungi on the waist. His father used a special kind of knot that looked a little difficult yet fascinating to his young eyes. However, he used the common "double twist knot" for his own use. This knot as its name suggests is tied by twisting the two points of the upper edge twice and tucking the ends simply in the waist. He has been wearing this attire as casual wear for almost sixty years like his elders. Even though it's like national apparel, Aziz claims the usage has been decreasing day by day as leisurewear.
Muktadir Emon, a-28-year-old engineer's experience with the attire however was not so cheery or amusing. He recollected his memories from childhood as he explained why he prefers trousers over Lungi. He was playing with his cousins when he was a 6 or 7 year old kid. Unfortunately, one of his cousin's lungi got loose in front of everyone by accident. It was nothing but an amusing memory now. Nonetheless, he thought this incident could play a part in choosing security over comfort as a kid.
Despite the decreasing popularity of this traditional attire among the youth, Bangladesh has been receiving foreign currencies by exporting it. The popularity of this simple yet classic piece of clothing has always been on the foreign market. With the escalating demand, even the online shops are selling lungis. From Amazon to Daraz, lungis with various price ranges and designs are now being sold. According to Aziz Khan, old-fashioned clothes are getting people's attention as a new trend. Hence, this traditional attire can be a part of the latest trend as well.
The men usually wear lungi as an attire. In some cultures, it is normal for the women to wear it as well. In Bangladesh, mostly indigenous women wear lungi known as 'thami' as their everyday wear. In Myanmar, lungi known as longyi is called "paso" when worn by men and "htamein" for women. However, it is familiar as a "pa kao mah" for men and a "pa toong" for women in Thailand.
Jannatul Ferdous, a 16-year-old student of Viqarunnisa Noon School recollects her memory as a kid. She was really fascinated by the way her father used to wear lungi. Hence, she used to go around the house tying her father's lungi around her waist as a 5-year-old. Now, she just wears a skirt when the heat gets intolerable.
The Bangladeshi poet Kaiser Haq once proudly proclaimed himself as a lungi activist, turning the ethnic attire into a symbol of equality and dignity in his poem. However, his humorous appreciation of lungi turned into a reality when Baridhara Housing Society banned wearing lungi for the rickshaw pullers in 2013. This incident resulted in "Lungi March" afterwards as a way of fighting against the so-called 'elite' society.
From an "emblem of egalitarianism" to casual wear, lungi represents the tradition of a nation as well as a companion in fond memories. Unlike superman's spandex, lungi is easy-fitting and baggy. It might not offer the ability to fly but will provide a similar flowy experience. It can provide comfortable warmth to everyone not only for the body but also for the mind.
Jannatul Ferdous Anan is a current student at the department of English at Jahangirnagar University. Email: [email protected]