The concept of students working part-time jobs has always been discouraged in our society. Such odd jobs are labelled as shameful.
Amid the pandemic, the online delivery system witnessed an unprecedented rise last year due to changes in lifestyle.
Ahsan Abdullah (not his real name) shared how helpful his delivery job has been. His academic life has gone nowhere in the past two years as he is stuck in the second year.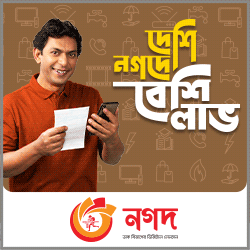 When everything stopped moving, including his tuition job, his bicycle moved.
"I lost all my tuition jobs and sat idle at home for months. Although my parents were sceptic initially, when I came back to Dhaka to work as a food delivery early this year, my earnings revived again."
The pandemic has more than doubled the number of food-delivery apps. A recent BBC report says worldwide online searches for 'food delivery' and 'local food' reached an all-time high in April.
In the third quarter of last year, Uber's delivery business continued its growth; Uber Eats' bookings rose 135 per cent year over year, and its revenue surged 125 per cent to USD 1.45 billion. No wonder people want everything at their doorsteps now.
The online delivery system is the best thing happened to humankind in recent years. People are getting to eat at home without cooking, cravings for late-night munching are being met, anytime is shopping time now. Groceries literally walk to your home.
In the case of Ahsan Abdullah, he started his delivery job borrowing someone's bicycle and later he bought one for himself. He has now found such ease in this job that he doesn't want to go back to his tutoring life.
"I can attend class, join friends in a hangout and then simply start working any time. Although the income is not that high, it's what I earn myself."
Delivery jobs come in different forms. You could become a takeaway delivery driver, carrier driver, and grocery delivery driver.
"In our country, home deliveries are mostly done by bicycle and as we all know, cycling is one of the finest exercises. So taking this job was a win-win situation for me. It's basically getting paid for exercising. I enjoy doing this job very much," sharedMustafizurRahman, a delivery man of Foodpanda Bangladesh and a final year student of National Univesity.
TashfiKayser, a sophomore doing her major at the University of Dhaka and owner of an online-based bakery business named 'Treats by Tashfi' shared her experience with student delivery men.
"Student engaging in the delivery system has been a blessing to little home-based businesses like mine. A considerable amount of communication and navigation skills is needed nowadays to deliver a product. Students come in handy in this regard. They make our life easy."
Working on a convenient shift and earning some extra bucks is the bright side of this job, and this is the sole reason students step in to persuade it.
As a matter of fact, nothing comes without hardship. Product delivering is one of the most challenging on-the-go jobs. Especially, traffic of Dhaka and stormy weather causes a lot of troubles to the delivery men.
"Weather and traffic is our biggest enemy. It disrupts the pleasure of going places and delivering happiness to people. Cycling for 5 to 6 hours on and off is tiring too. But I don't mind that as I get the money in time. It has been a great support to my family," said Bulbul Alam, a 12th grader at Bangla College. Bulbul is a sincere employee of ReDX delivery service.
But above all, leaving all the troubles and hardships aside, what is most important to Ahsan Abdullah is that the notion of odd job is changing. The pandemic has pushed people to think differently. Now, delivering foods or goods is gradually being treated respectfully.


Kaniz Fatema is a fourth-year student of Geography and Environment at the University of Dhaka